Sling Media announced its $999 SlingStudio hardware this week, intended as a cost effective and easy-to-use alternative for video creators who plan to share live video streams via Facebook Live or YouTube. Sling TV is also offering a significant discount on its AirTV Player and AirTV Adapter for customers who prepay for at least three months of service. Introduced at CES in January, AirTV is an OTA/OTT box that runs on Android TV. According to Sling TV CEO Roger Lynch, a recent study found that four out of five pay TV subscribers are interested in a la carte TV.
"Per one version of the promo, Sling TV is selling that device bundle for $50, down from the regular price of $129.99, to customers whose base service is $20 or more," reports Multichannel News.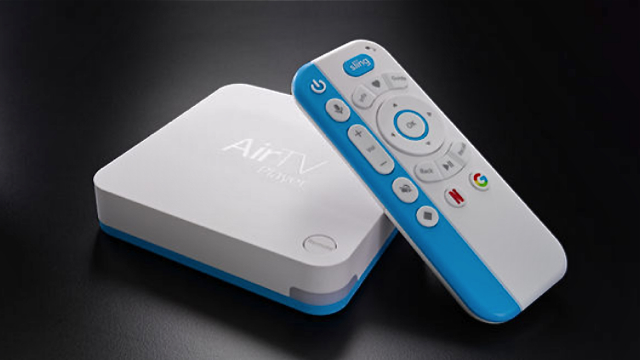 "Other AirTV discount options include prepaying for four months of Sling TV, if subs are paying between $15 to $20 per month, or prepay for six months, if the Sling TV customer is paying for a package that is less than $15 per month."
AirTV enables consumers to access local television channels and Netflix through the Sling TV interface, eliminating the need for multiple interfaces or remote controls. "More substantially," suggest Telecompetitor, "the combination of Sling TV's Orange OTT video service ($20 per month) and an AirTV bundle is ideal for viewers ready and able to cut the cord on their cable pay-TV services."
In regards to the new SlingStudio solution for live-streaming, the company is looking to provide an alternative to more expensive professional hardware such as NewTek's TriCaster. Controlled by an iPad app, SlingStudio also aims to simplify the process.
"Using that app, a video producer can easily record, edit and monitor feeds from four HD video inputs," notes TechCrunch. "While you can connect a total of up to 10 cameras and smartphones (iOS and Android via Sling's Capture app) to the box simultaneously, the editing software makes you focus on four feeds at a time for the live edit, which is typically enough for most setups."
SlingStudio and its related accessories (including CameraLink, for wireless connectivity with the SlingStudio hub) will be available in May through B&H and Sling Media. While the company is currently focusing on Facebook Live and YouTube, support for other sites will be "coming soon."
Topics:
A La Carte
,
AirTV
,
AirTV Adapter
,
AirTV Player
,
Android
,
Android TV
,
App
,
B&H
,
Bundle
,
Cable TV
,
Camera
,
CameraLink
,
CES
,
Cord Cutter
,
Dish
,
Facebook Live
,
iOS
,
iPad
,
Live Streaming
,
NAB 2017
,
Netflix
,
NewTek
,
OTA
,
OTT
,
Pay TV
,
Roger Lynch
,
Sling Media
,
Sling TV
,
Slingbox
,
SlingStudio
,
Smartphone
,
Subscription
,
Television
,
TriCaster
,
TV Show
,
Video
,
YouTube