Two companies at last week's NAB Show, Sphericam and Liquid Cinema, are making interesting contributions to the advancement of VR Cinema. Sphericam is preparing to launch a 6-sensor, 4-microphone spherical camera the size of a baseball into the prosumer market. The camera can internally stitch at 30 fps and, with an attached PC, output 60 fps live video. Liquid Cinema has developed a comprehensive yet simple-to-use software package for editing VR footage, adding effects, and, most interestingly, re-establishing the director's intent for where viewers should look at cut-points within the video.
Sphericam outputs the image data captured by six 1280×960 sensors in an equi-rectangular projection within a 4K rectangle. Founder Jeffrey Martin used Kickstarter to raise money for R&D and a prototype, and recently got $5M funding to take Sphericam to market. It will retail for $2,499.
Liquid Cinema enables text and other overlays to be dynamically placed into the 2D VR video stream, rather than burned in during rendering. The system will place the insertion within the viewer's field of view so the viewer doesn't miss it or have to look around for it. An unintended benefit of this design has been that the three German broadcasters currently using the system can fix spelling errors and update information in real time as people are watching the VR stream.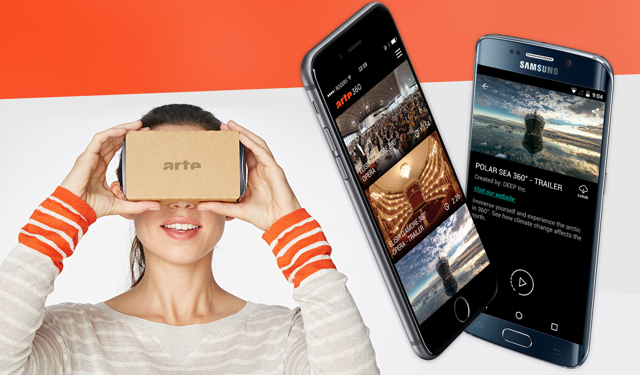 If the director has marked a specific point in the image that she would like the audience to look at across a cut, the system can lock in that position so that it is positioned directly in front of the viewer when the cut occurs. For example, as the camera moves up into a cloud, no matter which direction the person is looking, when the camera surfaces above the cloud a sunset will be directly in front of her.
Because the most common VR display devices (e.g. Cardboard, Gear, Vive, etc.) have different capabilities, features, and strengths, the system has a menu that allows the director to specify what capabilities and overlays are sent to each of them.
Liquid Cinema founder Thomas Wallner first discussed his vision for this software package when he passed through ETC@USC months ago to meet with Werner Herzog to discuss VR. Since then he has built out a software package that has many of the interface design features of Final Cut Pro, but which has been developed to address the unique challenges of VR experience creation.
Topics:
4K
,
Broadcast
,
Camera
,
Cardboard
,
Cinema
,
Crowdfunding
,
Editing
,
ETC@USC
,
Final Cut Pro
,
FOV
,
Gear
,
Germany
,
HMD
,
Jeffrey Martin
,
Kickstarter
,
Liquid Cinema
,
Live Video
,
Microphone
,
NAB 2016
,
NAB Show
,
Overlay
,
Prototype
,
Rendering
,
Sensor
,
Software
,
Sphericam
,
Television
,
Thomas Wallner
,
VFX
,
Video
,
Virtual Reality
,
Vive
,
Werner Herzog