San Francisco-based VideoStitch is at the NAB Show in Las Vegas this week demonstrating its post-production and live streaming software for virtual reality and 360-degree video. The company has algorithms for live streaming and batch multi-camera VR rig stitching. Its software runs on Nvidia cards that work on both Macs and PCs. VideoStitch's solution is being used by more than 1,000 production teams creating VR experiences for clients including Red Bull, Facebook, BAE Systems, ESPN, and Legendary Pictures.
While viewing a live stream from a seven-camera (six in the horizontal ring and one pointing up) GoPro rig feeding an Oculus Rift (1,000 pixels per eye), I could not see any seams in the image. VideoStitch reps claim, based on higher resolution camera and monitor tests, that the image will remain seamless as the resolution goes up.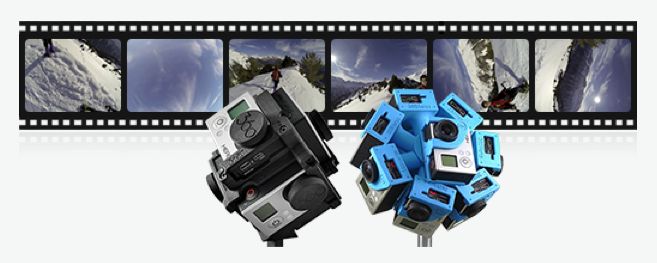 Live streaming can be up to 2K per camera, live recording up to 4K per camera, and batch processing can be 8K per camera and higher. Currently output options are 25, 30, or 60 fps at 8 bit or 10 bit color in MPEG-2, MPEG-4, and H264.
This 3.5-year-old company has offices in San Francisco and Paris. VideoStitch won the Diamond in the Rough award at Silicon Valley's 2015 LAUNCH Festival 2.0 startup competition.
VideoStitch is located in the South Hall — SU6417.
Topics:
2K
,
4K
,
8K
,
BAE Systems
,
Batch Processing
,
Broadcast
,
Camera
,
ESPN
,
Facebook
,
GoPro
,
Headset
,
Las Vegas
,
LAUNCH Festival
,
Legendary Pictures
,
Mac
,
NAB
,
Nvidia
,
Oculus Rift
,
Paris
,
PC
,
Post Production
,
Production
,
Red Bull
,
San Francisco
,
Software
,
Stitching
,
Television
,
Video
,
VideoStitch
,
Virtual Reality
,
VR