MobiTV reportedly has plans to power a service in 2014 that will introduce a new HDMI streaming stick or lightweight set-top box for playing Internet content on a TV set. While the company is not revealing who is behind the prospective service, it is likely that a broadband or wireless provider would use MobiTV to turn an OTT video service into something consumers can easily enjoy in their living rooms. This would be a bold move for MobiTV, which is not a traditional service provider.
According to the MobiTV site, the company is described as a "leading provider of comprehensive managed TV everywhere services that deliver live and on-demand television, downloadable video and related media content across Internet-enabled screens, including mobile devices, tablets and personal computers."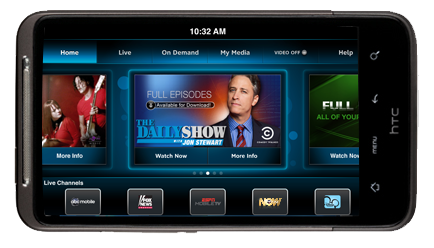 "The idea of delivering online video to TV screens is nothing new," writes Mari Silbey for Light Reading. "In the U.S., companies are creating apps for the Xbox, the Roku, and various smart TV sets. However, many of these initial efforts are coming from service providers that operate their own managed infrastructure for TV delivery. The MobiTV approach could open up the business to new competitors."
MobiTV currently powers video services for wireless operators including Sprint, T-Mobile, AT&T and NFL Mobile on Verizon Wireless. However, the company does not make chipsets or consumer hardware devices.
"On the semiconductor side, it has started partnering with providers to integrate its DRM technology at the chipset level. This is necessary for TV delivery in the home, because movie studios want hardware-based security when consumers are receiving HD-quality content," notes Silbey. "MobiTV is also lining up industry partners on the device side. It has announced a partnership with EchoStar Corp. for the set-top form factor. Partners for its HDMI stick haven't been disclosed."
Rick Herman, chief strategy officer for MobiTV, describes a solution in two form factors (to be called MobiTV Connect), which includes an HDMI dongle solution and "a real lightweight set-top box."
"Nobody is suggesting that cable TV companies are going away," concludes Silbey. "But the landscape is shifting as more content gets delivered online. With 2014 promising to be a big year for OTT video, MobiTV plans to be right in the thick of things."
Topics:
App
,
AT&T
,
Broadband
,
Cable
,
Chip
,
Connect
,
Console
,
Dongle
,
DRM
,
EchoStar
,
HD
,
HDMI
,
Herman
,
Live
,
Mobile
,
MobiTV
,
Movie
,
NFL
,
OTT
,
PC
,
Phone
,
Provider
,
Roku
,
Security
,
Silbey
,
Smartphone
,
Solution
,
Sprint
,
STB
,
Stick
,
Stream
,
Streaming
,
Studio
,
T-Mobile
,
Tablet
,
Television
,
TV
,
TV Everywhere
,
Verizon
,
Video
,
Wireless
,
Xbox