It's been nearly a year since LG purchased HP's webOS to power its future televisions. At a recent semiconductor event held in Seoul, Korea, LG researcher Hong Sung-pyo announced that the company has plans to debut a new TV running its version of the defunct smartphone OS at the Consumer Electronics Show in January. The webOS-powered TV will reportedly run a 2.2GHz dual-core processor with 1.5GB of RAM, enabling multitasking features.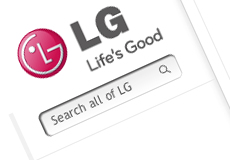 "It's unclear what form webOS will take when it emerges from its three-year hiatus; last February, LG said it was revamping the interface used by Palm and HP for phones and tablets, adding that it will be 'a gamechanger,'" reports The Verge. "The operating system is famous for introducing the 'cards' multitasking system that's since been aped by Android, Windows Phone, and iOS, and despite the reported interface revamp there's still a chance we'll see cards make their way to LG's new TV in some form."
LG also suggested it plans to revive Palm/HP's Enyo development, an open-source JavaScript framework for cross-platform applications.
"As to why LG feels the need to develop a brand new smart TV operating system, Hong says that, despite improvements to LG's TV current operating system, Netcast, many users aren't fully utilizing the smart functionalities of their televisions," explains the post. "It's hoped that webOS will offer a better experience and encourage people to use LG's software over a third-party box like an Apple TV, Roku, or Chromecast."
In related news, Samsung announced that its smart TVs at CES will feature improved motion control with finger gestures — and its voice interaction service, which understands natural languages, is expanding from 11 countries into 12 new international markets.
"Samsung has also made the service more convenient by focusing on the most frequently-used functions and taking into consideration user's usage patterns," notes the press release. "Further, when a consumer uses voice interaction to search for daily living information such as weather, stocks and sports while watching TV, a pop-up window appears on the bottom of the page with search results. Consumers can move to the app and see the details by clicking the pop-up."
Check back with ETCentric in January for more on webOS, Samsung smart TVs and related news from the CES show floor.
Topics:
Android
,
App
,
Apple
,
Apple TV
,
CEA
,
CES
,
Chromecast
,
Control
,
Enyo
,
Gesture
,
Google
,
HP
,
iOS
,
Java
,
Korea
,
Language
,
Las Vegas
,
LG
,
Mobile
,
Motion
,
NetCast
,
Palm
,
Phone
,
Processor
,
Roku
,
Samsung
,
Seoul
,
Show
,
Smartphone
,
Sports
,
Stock
,
System
,
Tablet
,
Television
,
TV
,
Voice
,
Weather
,
webOS
,
Windows