Meta Platforms' stock price jumped 18 percent Wednesday on Q1 results that while not great were better than expected. Revenue was up 7 percent, to $27.9 billion, the most listless growth rate since Facebook's May 2012 IPO. Reality Labs, the division driving the company's metaverse ambitions, beat analysts' expectations with revenue of $695 million, but the unit lost about $3 billion. Reality Labs is a large investment in a next-generation platform "comparable in value to the leading mobile platforms today," Meta CEO Mark Zuckerberg said.
"It's expensive to build this — it's something that's never been built before and it's a new paradigm for computing and social connection," Zuckerberg said on the earnings call.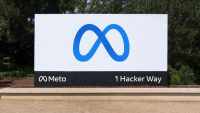 Aside from revenue, expenses were the only top-line category posting growth, up 31 percent, to more than $19 billion company-wide, per Q1 financials. Operating income was down 25 percent compared to Q1 2021, at $8.52 billion for the three month period ending March 31. Net income was down 21 percent, to just under $7.5 billion.
In terms of segment results, revenue from the "Family of Apps" unit that includes Facebook, Instagram and Whatsapp, was up 6.6 percent year-over-year, to nearly $29 billion.
"Facebook's user base grew to 1.96 billion daily active users, up from 1.93 billion reported in February," beating analyst expectations, wrote The Wall Street Journal, explaining that "in the prior quarter, Facebook's daily active user base fell by two million users, which was the first time the company had reported a decline in users."
Advertising revenue was up 6.1 percent for the first quarter, to $27.9 billion. Zuckerberg said Meta's goal "is to generate sufficient operating income growth from Family of Apps to fund the growth of investment in Reality Labs" while still growing overall profitability.
"Unfortunately, that's not going to happen in 2022 given the revenue headwinds," he conceded, listing the war in Ukraine, the fact that Meta's social platforms have been blocked in Russia and the decision to refuse advertising from Russian companies worldwide as factors. "Facebook had announced it would begin to label Russian state-backed media and relax hate-speech policies for Ukrainian users," The New York Times reported.
The centerpiece of the company's metaverse strategy "is the social platform that we're starting to build with Horizon," Zuckerberg said, qualifying the virtual world as still in its early phase. Meta plans to "launch a web version of Horizon later this year that will make it easy for people to step into metaverse experiences from a lot more platforms, even without needing a headset."
On the hardware side, Meta Quest 2 "continues to be the leading virtual reality headset" and later this year the company will release the higher-end headset, codenamed Project Cambria, "which will be more focused on work use cases and eventually replacing your laptop or work setup," Zuckerberg said. No mention of the wireless AR glasses initiative, dubbed Project Nazare.
"Meta is facing Category 5 hurricane headwinds, from engagement to advertising to growth," Wedbush Securities analyst Daniel Ives told NYT, adding, "There's a sense that the company still doesn't have its arms around all the changes with the iPhone or with losing users."
Topics:
Advertising
,
AR Glasses
,
Daniel Ives
,
Facebook
,
Family of Apps
,
Hate Speech
,
Horizon Worlds
,
Instagram
,
iPhone
,
IPO
,
Mark Zuckerberg
,
Meta Platforms
,
Meta Quest 2
,
Metaverse
,
Mobile
,
Project Cambria
,
Project Nazare
,
Reality Labs
,
Russia
,
Social Media
,
Ukraine
,
Virtual Reality
,
VR Headset
,
Wedbush Securities
,
WhatsApp