Microsoft's LinkedIn is the latest social platform to pursue the growing popularity of online video. The network, now touting nearly 600 million global users, is launching a live video feature that allows individual users and organizations to broadcast video in real-time to select groups or the LinkedIn community. "LinkedIn Live" will initially be offered as an invite-only beta test in the U.S. with plans for a contact form in upcoming weeks for others interesting in trying the new feature. LinkedIn is partnering with several developers of live streaming services to help creators produce more polished video content.
Among the first developers are Brandlive, Socialive, Switcher Studio, Wirecast and Wowza Media Systems (LinkedIn plans to add more third-party developers in the coming weeks).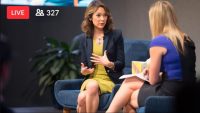 "It's not clear when and if LinkedIn will make it possible for everyone to create LinkedIn Live videos, but if you consider how it developed its publishing features for written work, that will come later," reports TechCrunch.
"Initial live content that LinkedIn hopes to broadcast lines up with the kind of subject matter you might already see in LinkedIn's news feed: the plan is to cover conferences, product announcements, Q&As and other events led by influencers and mentors, office hours from a big tech company, earnings calls, graduation and awards ceremonies and more."
Microsoft's Skype is reportedly not part of the video or tech infrastructure; however, the company's Azure Media Services cloud unit will provide video encoding.
LinkedIn is trailing other social platforms such Facebook and Twitter regarding video, but in its first 17 months of introducing native video features, the company reported a notable jump in user traffic and revenue. LinkedIn is betting that live video will help drive this trend.
According to TechCrunch, LinkedIn's "video ads earn 30 percent more comments per impression than non-video ads and … LinkedIn members spend almost three times more time watching video ads compared to time spent with static Sponsored Content."
Topics:
Advertising
,
Azure Media Services
,
Beta
,
Brandlive
,
Broadcast
,
Cloud
,
Developer
,
Encoding
,
Facebook
,
LinkedIn
,
LinkedIn Live
,
Live Streaming
,
Live Video
,
Microsoft
,
News Feed
,
Publishing
,
Skype
,
Social Media
,
Socialive
,
Streaming
,
Switcher Studio
,
Twitter
,
Video
,
Wirecast
,
Wowza Media Systems