Facebook is increasing its efforts to boost content on Facebook Watch, promising content creators they can connect with communities and make serious money via ads. Even though Facebook is behind powerhouse YouTube, the company has also staked out an impressive presence at the first VidCon London, running February 14-17, and is holding an invitation-only Facebook Creator Day in London just prior to that. Self-help guru Jay Shetty, who has 20+ million Facebook followers, is the platform's face at the event.
Variety reports that Shetty will "be a special guest at Facebook Creator Day London and a featured speaker at VidCon London." According to Shetty, he's made "more than $1 million over the past 12 months from ad revenue generated on his Facebook Watch channel, which is his biggest video platform." His videos, which focus on relationships, wellness, mental health, self-love and purpose, have racked up 4+ billion views.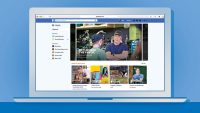 "People are seeking guidance and advice and positive, uplifting messages," said Shetty. He noyed that, although he "came to the party late in terms of becoming a creator," his community on Facebook became a foundation to build his video following. "Facebook is going through a growth phase," he said. "They're recognizing the importance of creators and helping them grow."
YouTube is the title sponsor of VidCon London, where the company's head of culture and trends Kevin Allocca will present the creator keynote. (YouTube was the "premiere sponsor" of VidCon since 2013; Viacom bought the show a year ago.)
Facebook's director of media partnerships for Europe, the Middle East and Africa Patrick Walker said that Facebook doesn't intend to "poach creators from YouTube or any other platform," but rather to emphasize Facebook's position as a unique social platform that can help creators "earn enough money to become their full-time job."
Facebook Watch, the company's platform for episodic video content, debuted in August 2018 and, since then, added Watch Parties, a co-viewing feature, and expanded its Ad Breaks revenue-sharing program. "We have monetization options, which completely changes the game," said Walker. To be eligible for this program, a video must be published from a Page with at least 10,000 followers and, in the last 60 days, must have had at least 30,000 one-minute views on videos at least three minutes long.
Facebook Creator Day (which is actually two days) will convene 72 creators at Soho Farmhouse in Oxfordshire and will "include a number of workshops, interactive talks and opportunities to hear from other creators on the platform." Creators will come from "more than 10 countries including the U.K., Ireland, Sweden, France, Italy, Spain, Germany, United Arab Emirates, Nigeria and South Africa."
At VidCon London, Facebook will also host a "Facebook & Instagram Creator Lounge as well as workshops across its family of apps, including Oculus VR."