LG Electronics plans to unveil its new premium line of Super UHD 4K televisions at CES this week, including three series ranging from 49- to 86-inches. According to LG, the lineup features its "most advanced LCD/LED picture quality ever, with expanded color capabilities, advanced picture and sound-enhancing features including high dynamic range (HDR) and LG's alluring Flat ULTRA Slim design." The Super UHD models come with LG's newest generation webOS Smart TV platform. The company will also unveil its first production-ready 98-inch 8K Super UHD model in Las Vegas.
The new line includes the UH9500 series (ranging in size from 55- to 86-inches), UH8500 series (55- to 75-inch screens), and UH7700 series (49- to 65-inch screens). Model UH9800 is LG's 98-inch 8K TV. Select models are scheduled to ship in the U.S. this spring.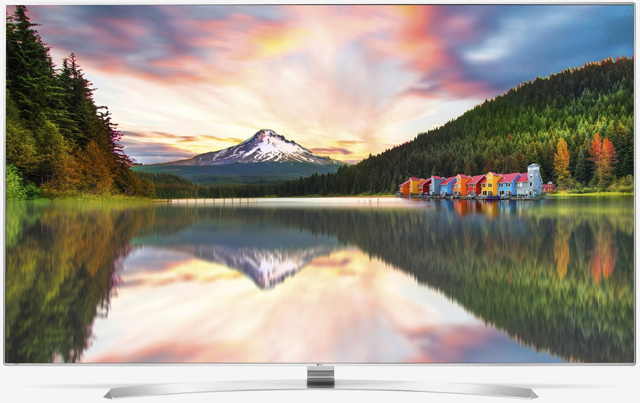 "We are the only company with a dual strategy focused on both OLED and UHD TV technologies and this is proof that we're committing to delivering the most advanced picture quality and home entertainment innovations to consumers around the world," said Brian Kwon, president and CEO of LG's home entertainment company.
"The UH9500 and UH8500 series add Color Prime Plus to further expand color gamut to 'approximately 90 percent' of the Digital Cinema Initiative (DCI) P3 color space, which is used in digital cinemas," reports TWICE. "Color Prime Plus uses a new, thicker color filter and new LCD phosphors. The UH9500 and UH8500 series also feature 10-bit panels with 10-bit processing power."
The UH9500, UH8500 and UH7700 series feature an advanced IPS display with True Black Panel and Contrast Maximizer.
According to the release, "True Black Panel is a proprietary technology that minimizes reflections and enhances contrast ratio for a more comfortable viewing experience while Contrast Maximizer delivers more depth and contrast by separating objects from their backgrounds."
The company is emphasizing "HDR-Plus" capability, which improves contrast by combining LG's Color Prime Plus with the company's Ultra Luminance tech. Color Prime Plus uses a filter in its effort to replicate cinema-quality color.
"That's a lot of marketing speak," notes The Verge, "but in other words, LG wants you think that its HDR is better than everyone else's. Granted, it appears LG and other TV manufacturers have decided not to use Dolby's stunning Vision specification, which could become the standard down the line."
LG's new Super UHD TVs will be on display this week at LG's booth in the LVCC Central Hall (#8204).
Topics:
4K
,
8K
,
Brian Kwon
,
CES 2016
,
Cinema
,
Color Gamut
,
Color Prime Plus
,
Contrast Maximizer
,
Contrast Ratio
,
CTA
,
DCI
,
Digital Cinema
,
Dolby
,
Dolby Vision
,
Flat ULTRA Slim
,
HDR
,
HDR-Plus
,
Home Entertainment
,
IPS Display
,
Las Vegas
,
LCD
,
LED
,
LG
,
LG Electronics
,
OLED
,
Smart TV
,
Super UHD
,
Television
,
True Black Panel
,
UHD
,
Ultra HD
,
Ultra Luminance
,
webOS
,
webOS 3.0