As interest in virtual reality heats up across industries, a number of international media players — including Disney, Sky, Axel Springer, ProSiebenSat.1 Media, China Media Capital and Evolution Media Partners (backed by TPG and Creative Artists Agency) — are investing $65 million in Palo Alto-based VR startup Jaunt. The investment follows other high-profile moves in immersive tech: Google joined venture funds in investing $542 million in Magic Leap last year, and Oculus VR raised $75 million before Facebook picked up the company for $2 billion.
"Jaunt helps create and distribute live-action virtual-reality content, which differs from the computer-generated content that has fueled the rise of virtual-reality gaming," reports The Wall Street Journal.
"Jaunt, with about 60 employees, leases to filmmakers a spherical 24-lens camera for thousands of dollars a day and then stitches the different lenses' footage into a single image."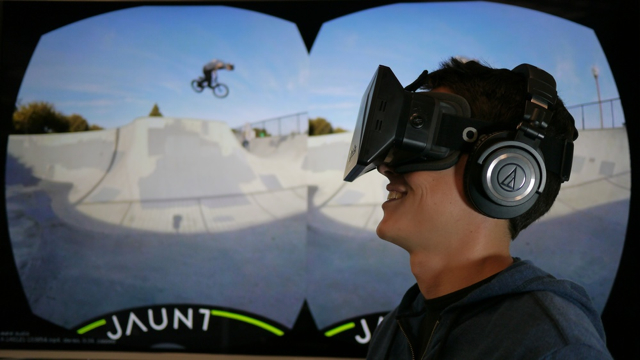 Interest in immersive technologies has grown dramatically in recent years, as many view virtual reality and augmented reality as the next major medium and a logical progression for gaming, TV and film.
"I find virtual reality to be the most compelling new visual medium to come onto the entertainment landscape in my lifetime," said Rick Hess, head of Evolution Media. "It's going to open an entirely new monetization market for the industry."
Virtual reality is already making inroads in news and entertainment in the form of music videos, concert footage, feature films, documentaries and journalism.
"The technology faces its mainstream moment over the next year," suggests WSJ, as VR headsets from Sony, HTC and Oculus are released to the public. While those require computers or game consoles, Samsung "this year released a $200 headset that holds a smartphone as a screen. Google also sells a $20 cardboard headset for smartphones."
Topics:
Augmented Reality
,
Axel Springer
,
Camera
,
China Media Capital
,
Concerts
,
Creative Artists Agency
,
Disney
,
Evolution Media Partners
,
Facebook
,
Gaming
,
Google
,
HTC
,
Jaunt
,
Journalism
,
Magic Leap
,
Movies
,
Music Videos
,
Oculus VR
,
Palo Alto
,
Production
,
ProSiebenSat.1 Media
,
Rick Hess
,
Samsung
,
Sky
,
Sony
,
TPG
,
TV
,
Video
,
Virtual Reality
,
VR