During yesterday's Apple product event in San Francisco, HBO announced it plans to launch its much-anticipated "HBO Now" Internet streaming service in April, initially on Apple devices (the exclusivity is scheduled for three months). The new service, which does not require a traditional TV subscription, will run $14.99 per month. Its debut will coincide with the new season of HBO's "Game of Thrones." HBO Now subscribers will have access to all of the cable network's original programming in addition to its movie offerings.
"Anticipation for HBO's new digital streaming service has been growing since October, when the company announced plans to start an Internet offering," reports The New York Times. "The new service steps up its rivalry with digital-first streaming outlets like Netflix and Amazon. It also puts more pressure on the established television business, which takes in $170 billion a year in revenue."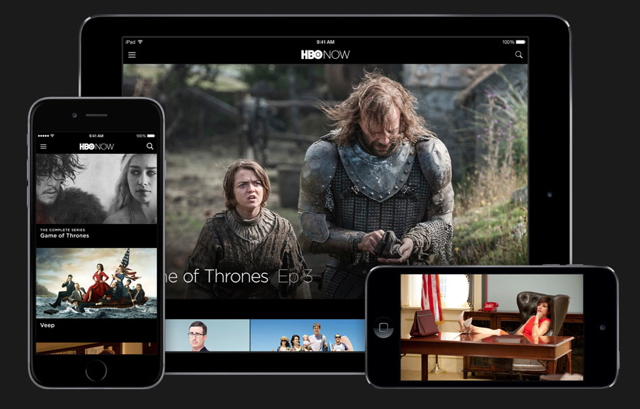 HBO Now joins a growing collection of new and planned Internet-based offerings from the likes of Dish Network, CBS and Sony — companies looking for solutions in a new era of cord-cutters and cord-nevers willing to pay for Internet but not television.
HBO is targeting the 10 million U.S. homes that currently have Internet service but no cable or satellite TV subscriptions.
"Apple will market the HBO service as part of its offerings, including its Apple TV product," notes NYT. "The company said Monday it had sold 25 million Apple TV devices and that was cutting the price to $69 from $99. HBO's three-month exclusive with Apple applies only to other digital outlets — not the traditional cable, satellite and telecom companies that currently sell HBO as part of television bundles."
Topics:
Amazon
,
Apple
,
Apple TV
,
Cable
,
CBS
,
Dish
,
Eddy Cue
,
ESPN
,
Game of Thrones
,
HBO
,
HBO Now
,
Internet
,
ISP
,
Movie
,
Netflix
,
Original Programming
,
Richard Plepler
,
San Francisco
,
Satellite
,
Sony
,
Streaming
,
Subscription
,
Telecom
,
Television
,
TV
,
Video