At this week's Google I/O developer conference in Mountain View, California, the company unveiled new tools for a number of its products designed to help consumers control their personal data and how their online activities are tracked. "We think privacy is for everyone — not just for the few," explained Google CEO Sundar Pichai. "We want to do more to stay ahead of constantly evolving user expectations." In addition to detailing privacy features, Google made announcements regarding its two latest Pixel devices, its newest version of Android, the Nest Hub Max smart display, and updates to Google Assistant.
"All of your privacy and security settings have been moved to a more accessible place on your Google account, with the most relevant controls appearing first," explains Wired. "And you can now choose to auto-delete your data after a certain number of months."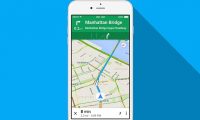 "Google plans to permit users to navigate its maps, watch videos on YouTube and search for information in 'incognito mode,' limiting the amount of information shared with the company," reports The New York Times. "Google added incognito mode to its Chrome browser a decade ago," but now it's coming to Google Maps and YouTube.
Meanwhile, a new Android update will "simplify how to limit the sharing of location data with app providers." The company also plans "to limit the use of tracking cookies on Chrome, the world's most popular browser with about a 60 percent market share."
While it is emphasizing the need for consumer control over data tracking, Google illustrated updates that make products more useful and convenient based on data collection.
For example, the next-gen Google Assistant, "powered by the company's artificial intelligence, can learn more about you to personalize reminders and tasks," notes NYT. "It can remember your partner's birthday … and remind you to buy a present a week beforehand. It can also help book car reservations on the web using emails and calendar information."
Assistant's driving mode will help drivers with tasks such as playing music, answering calls or setting up map destinations — all hands-free. How Assistant's tech works on smartphones will make it faster and more responsive. "Google said it would start processing what users say to the Assistant on the device — instead of sending it to data centers — allowing the smartphone to respond more quickly."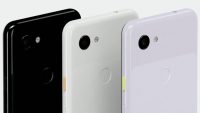 Google's new Pixel 3a and 3a Plus (on sale today) tout numerous premium features, but at a lower price point than many competing devices. "For $400, you get some of the Pixel's best tricks — night sight in the camera, an adaptive battery, augmented reality built into Google Maps — plus a headphone jack," notes Wired. "You won't find bells and whistles like wireless charging or a 1440p display — but for all the money you'll save, we don't think you'll notice the difference."
The company's latest version of Android (currently in beta and rolling out later this year) is designed to support foldable phones, 5G and Dark Mode. "The as yet unnamed Android Q comes with some cool updates, like a Smart Reply feature that works across all your messaging apps and a Live Caption tool that translates videos when the sound isn't on," according to Wired.
"The key here, Google says, is that none of this data leaves your phone—the focus is on-device machine learning. You can more easily monitor your app permissions, and Google will prompt you to review which apps have access to data like your location."
Google also announced Duplex on the Web, a bot that helps make reservations and schedule appointments; Live Relay assistive chat feature, designed for those with speech impairments or nontypical speech patterns; and the Nest Hub Max, a new smart display coming this summer for $229 that serves as central command for the smart home.
"It can control your Nest Thermostat or your smart lights," explains Wired. "It has a camera, so you can use it to watch cooking tutorials on YouTube, and a microphone, so you can shout at Google Assistant to turn off the timer. The camera and microphone also support video chat — but if having a camera-enabled device in your home freaks you out, there's a physical toggle to turn them both off."
The company is also opening its Smart Display platform to developers, who will be able to create Google Assistant apps and games. "The fact that the games are based on HTML, CSS and JavaScript … enforces some limits to what developers can do with this platform," notes TechCrunch. "Google is launching Interactive Canvas, a new API that allows developers to create full-screen experiences. This will actually work across Android and smart displays over time."
Topics:
5G
,
Android Q
,
Artificial Intelligence
,
Augmented Reality
,
Chrome
,
Developer
,
Duplex on the Web
,
Gaming
,
Google
,
Google Assistant
,
Google I/O
,
Interactive Canvas
,
Live Relay
,
Maps
,
Mountain View
,
Music
,
Nest Hub Max
,
Pixel
,
Pixel 3a
,
Pixel 3a Plus
,
Privacy
,
Security
,
Smart Display
,
Smartphone
,
Sundar Pichai
,
User Data
,
Video
,
YouTube