According to researcher IHS, Google Chromecast shipments surpassed Apple TV numbers for the first time. During Q1, 3.2 million Chromecast devices shipped, compared to 1.7 million Apple TV units. The $35 Chromecast has become more competitive since launching its new version in September, designed for easier use with televisions than the previous model. Chromecast also supports "thousands" of popular apps such as Google Play Movies, HBO Now, Hulu, Netflix, Pandora, Showtime Anytime, Spotify, Twitch, WatchESPN, YouTube, and many others.
Chromecast extends the mobile apps already on our phones to our TV, whereas the $149 Apple TV is more a device for storing apps to run on television. In November, Chromecast added support for Dish's Sling TV service, providing a new way to watch live and on-demand television.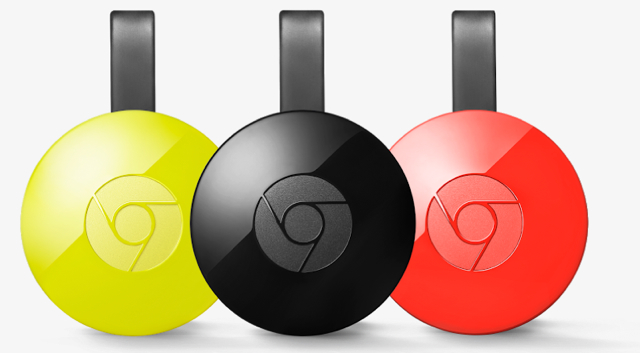 CNET credits Apple TV's recent price bump for the shift: "Google has priced Chromecast at $35 since its introduction in 2013, when the popular bare-bones device spurred a wave of imitators. But last year, Apple upgraded its Apple TV for the first time in three years, and the company boosted its starting price to $149 from $99."
In addition, the IHS Technology Connected Device Market Monitor report points out that as of the end of 2015, "the world now contains 8.1 billion connected smartphones, tablets, personal computers, TVs, TV-attached devices and audio devices. On average, across the globe, this device base equates to an astounding four devices per household."
Netflix is accessible via 339 million connected devices in the U.S., which is "equivalent to addressing 32 percent of the audio-visual hardware landscape," notes IHS.
"Netflix's reach is a testament to the company's unrivalled device strategy," said Merrick Kingston, principal analyst-connected home, at IHS. "The service's ubiquity turns Netflix into a de facto rival — and on occasion complement — to any other given video offering in the U.S."
Topics:
Apple TV
,
Apps
,
Chromecast
,
Dish
,
Google
,
Google Play
,
Google Play Movies
,
HBO Now
,
HDMI
,
Hulu
,
IHS
,
Live TV
,
Media Stick
,
Merrick Kingston
,
Mobile
,
Movies
,
Netflix
,
On Demand
,
Pandora
,
Pay TV
,
PCs
,
Showtime Anytime
,
Sling TV
,
Smartphones
,
Spotify
,
Streaming
,
Tablets
,
Television
,
TV Shows
,
Twitch
,
Video
,
VOD
,
WatchESPN
,
YouTube