Just in time for the holidays, Google announced on Tuesday that it is supporting 10 new apps for its $35 Chromecast media streaming dongle that plugs directly into a television's HDMI slot. The new apps come from Avia, BeyondPod, Plex, PostTV, Red Bull.TV, RealPlayer Cloud, Revision 3, Songza, VEVO and Viki. Chromecast, which debuted in July, now has 17 apps available for streaming content. Users can select the video apps on a phone or tablet to view content on their TV.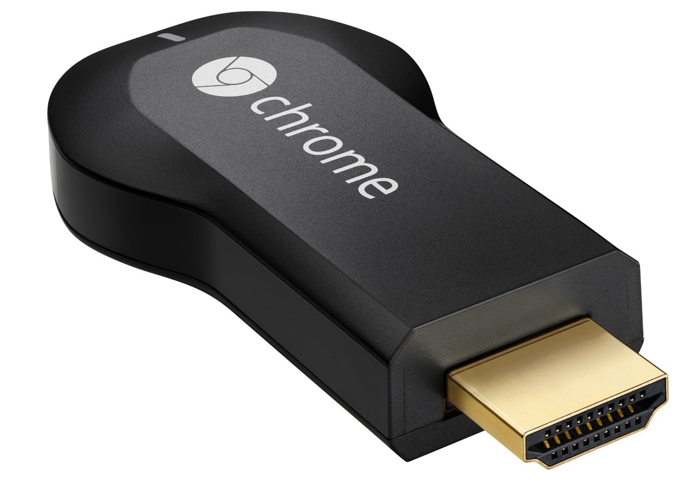 Prior to the latest announcement, "Chromecast only supported a subset of premium apps including Netflix, Hulu Plus, HBO GO, Pandora, YouTube, Google Play Movies and TV and Google Play Music," reports ReadWrite. "The biggest addition may be that of Plex, an app that lets you stream your own personal media (stored locally on a device or online). The ability to stream personal media has been a big request from Chromecast users since Google launched the device."
"There's no need to huddle around small screens when you can share your own photos and videos using your phone, tablet, or laptop," suggests Google in its announcement.
Chromecast now allows VEVO users to cast music videos from iOS, Android and VEVO.com. "Chromecast lets you cast a music video seamlessly from your VEVO Chromecast enabled mobile app or your laptop, to the TV screen for a pure living room experience," notes VEVO. "On Android and iOS, you can enjoy VEVO with background play, which enables you to continue casting videos to your TV while checking your e-mail, browsing the Internet or any other activity on your phone or tablet."
Related Stories:
Chromecast Revisted, TIME, 12/12/13
Aereo's Next Target is Google's Chromecast, Digital Trends, 12/11/13
Topics:
Android
,
App
,
Avia
,
BeyondPod
,
Cast
,
Chromecast
,
Cloud
,
Dongle
,
Film
,
Google
,
Google Play
,
HBO
,
HBO GO
,
HDMI
,
Hulu
,
Hulu Plus
,
Internet TV
,
iOS
,
Laptop
,
Movie
,
Music
,
Music Video
,
Netflix
,
Pandora
,
Phone
,
Photo
,
Plex
,
PostTV
,
Premium
,
ReadWrite
,
RealPlayer
,
Red Bull
,
Revision
,
Smartphone
,
Songza
,
Stream
,
Streaming
,
Tablet
,
Television
,
TV
,
Vevo
,
Video
,
YouTube