According to a new Broadband Media Intelligence report by IHS, 86.1 million U.S. households had broadband Internet access at the middle of 2013. That figure represents a 70.2 percent penetration of American households. IHS estimates a 71.3 percent penetration by the end of the year, up from 69.6 percent the previous year. IHS also forecasts coverage will reach 74.1 percent by 2017 (about 94.7 million homes). Cable is currently the leading mode of access.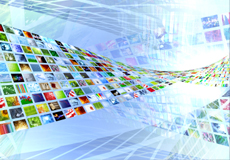 "In fact, cable's market share of broadband Internet access for U.S. households exceeded 50 percent this year," reports The Next Web. "Cable has been growing at an average of 600,000 new connections every quarter for the last two years."
"Meanwhile, DSL, the second-ranked access technology, is on the decline," notes the post. "At the end of June 2013, the 31 million DSL connections, or 34 percent of the fixed broadband market, lost 258,000 lines. DSL has been shrinking by 0.3 percent each quarter for the last year-and-a-half: that's not a huge rate, but it doesn't look like the trend will be reversing anytime soon."
"For its part, Verizon is the main driver of fiber-to-the-premises (FTTH) access to broadband Internet, via its FiOS service," explains the IHS press release. "FTTH is growing even faster than cable, at 3.1 percent average quarterly growth. With nearly 7 million connections at the end of the second quarter, FTTH had about 8 percent of the fixed broadband Internet market."
At the end of the second quarter of 2013, Comcast held more than one-fifth market share of U.S. broadband Internet, while AT&T, Time Warner Cable, Verizon and CenturyLink completed the list of top five providers.
The report suggests there are hurdles for those looking to enter the market: "Various steps can be taken to improve local broadband markets, IHS believes. Among them are the relaxation of laws on cities and government bodies when rolling out community networks; the reduction and consolidation of rights-of-way pricing, as well as access to utility poles or ducts and conduits; expediting processes for broadband infrastructure access; and introducing statutory rights for third parties to wholesale fiber or cable products to consumers."
In related news, IHS also reports that more than 1.7 billion streaming devices capable of accessing OTT broadband video from services such as Netflix and Hulu Plus shipped this year. This number is up 20 percent from 1.43 billion units in 2012. "The market is projected to gow another 20 percent in 2014 to about 2.67 billion units by 2017 — up 86 percent since 2012," notes Home Media Magazine.
Topics:
Access
,
America
,
AT&T
,
Broadband
,
Cable
,
CenturyLink
,
Comcast
,
Connect
,
Connection
,
DSL
,
Estimate
,
Fiber
,
FiOS
,
Fixed
,
Forecast
,
FTTH
,
Home
,
Household
,
Hulu
,
IHS
,
Intelligence
,
Internet
,
Law
,
Netflix
,
Network
,
OTT
,
Penetration
,
Predict
,
Pricing
,
Provider
,
Report
,
Research
,
Share
,
Study
,
Time Warner Cable
,
Trend
,
TWC
,
Verizon