According to the new "Mobile Messaging and Social Media" report from the Pew Research Center, Facebook is now more than three times as popular as Twitter among adults in the U.S. The report notes that 72 percent of adult Internet users are on Facebook, while 31 percent use Pinterest, 28 percent use Facebook-owned Instagram, 25 percent use LinkedIn, and about 23 percent use Twitter. The figures represent slight increases over 2014 for Facebook, Instagram and Pinterest; no change for Twitter from the previous year; and a 3 percent decrease for LinkedIn.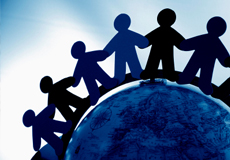 "Facebook also leads Twitter in engagement: 70 percent of its users access the social network every day, and another 21 percent check it at least once a week," reports Variety. "In comparison, only 38 percent of Twitter users check the service once a day, and another 21 percent tune in at least once a week. That leaves 40 percent of Twitter users checking the service less than weekly, compared to just 9 percent for Facebook."
Pew's survey indicates that Twitter has dropped to 20 percent use among white adult Internet users, but is being used by 28 percent of black adult Internet users and 28 percent of Hispanic adult Internet users.
For the first time, Pew included standalone mobile messaging apps in its survey, learning that 36 percent of adult smartphone owners in the U.S. currently use an app such as Kik or WhatsApp.
Overall U.S. growth has been slowing for many social platforms in recent years, which is why attracting international users has become a priority.
"Facebook, for example, is working to provide free Internet access to people in emerging markets like South America and Africa," notes Re/code. "Twitter is working to make its service more accessible to those without wireless Internet, too, and recently started sharing user figures for those who receive tweets as text messages (a popular method in India)."
Topics:
Africa
,
Apps
,
Demographics
,
Engagement
,
Facebook
,
Images
,
India
,
Instagram
,
Internet
,
Kik
,
LinkedIn
,
Messaging
,
Mobile
,
Mobile Messaging
,
Pew Research Center
,
Photos
,
Pins
,
Pinterest
,
Smartphones
,
Social Media
,
Social Platforms
,
South America
,
Tablets
,
Texting
,
Tweets
,
Twitter
,
United States
,
WhatsApp
,
Wireless