After beta-testing with 200,000 users, Facebook debuted a cloud gaming service for Android and the web, providing smaller free-to-play games such as "Asphalt 9: Legends," "PGA TOUR Golf Shootout," "Solitaire: Arthur's Tale" and "Mobile Legends: Adventure." Over time, the social media giant plans to add more games, which can be found in its Gaming section. In conjunction and to remind people about the new games, Facebook is also introducing "cloud playable ads," derived from games' native code.
Engadget reports that Facebook vice president of play Jason Rubin noted that, "even with Apple's new cloud games policy, we don't know if launching on the App Store is a viable path." He added that the games may someday be on TVs.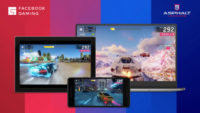 "I think that would-be a great way to play these games," he said. "But there's a big controller issue for us because we're not giving you a subscription and sending you a controller as a loss-leader to earn back over time. Keyboard and touch input works for us, but the controller input for some of these [other] devices is something we have to overcome. We have some ideas, but it'll take us some time to get there."
The new streamable games will first debut in California, Texas and several Northeast and Mid-Atlantic states.
The game service is based on PlayGiga, a cloud gaming startup Facebook purchased last December. The company also revealed it is "working with Microsoft on xCloud integration" although the game service "currently has nothing to do with Xbox." Rubin stated that 30 million people are still logging in to play "regular social games." It also still has "Instant Games, a series of quick-to-boot titles based on HTML5" that draw in 300+ million monthly active users and will coexist with streaming titles in the Gaming tab.
Endgadget says that Facebook is starting with smaller titles because "they're not graphically intensive and, therefore, don't require 4K or even 1080p resolution to appreciate." That differentiates them from the titles offered by Stadia or Nvidia's GeForce Now which "are trying to match or surpass the experience offered by high-end PCs."
The downside of the current offerings, however, is that they "aren't the sort that Facebook Gaming streamers typically play … [and] for now, Facebook can't compete" with the kind of games offered by Amazon and Google. Even so, Facebook Gaming "doesn't have to justify itself as a standalone business or continuously sell people on the value of a subscription." Rubin added that Facebook will likely be shipping PC games eventually.
"We're really [the] cloud offering farthest away from all other cloud offerings," said Rubin. "A year or two from now, I believe you will see games that are specially tailored for a cloud-playable system that can take advantage of the social graph that Facebook can offer. It will be a totally new type of game that I think will be incredibly powerful and move consumers forward."
Topics:
1080p
,
4K
,
Advertising
,
Amazon
,
Android
,
App Store
,
Apple
,
Beta Test
,
Cloud Gaming
,
Controller
,
Facebook
,
Facebook Gaming
,
Gaming
,
GeForce NOW
,
Google
,
HTML5
,
Instant Games
,
Jason Rubin
,
Microsoft
,
News Feed
,
Nvidia
,
PC
,
PlayGiga
,
Social Games
,
Social Media
,
Stadia
,
Streaming
,
Xbox
,
xCloud