Facebook has introduced Messenger Kids, a new messaging app for children aged 6 to 12, in response to safety concerns from parents about Messenger. Some experts, however, are dubious that children that young should have any social media access at all. Messenger Kids is a standalone chat and messaging app that lets children send texts, messages and videos to contacts that have been approved by parents, who download the app on a child's tablet or smartphone and control it from their own Facebook accounts.
The Wall Street Journal reports that Facebook says "it consulted child-development and online-safety experts, the parent-teacher organization National PTA and thousands of parents" to develop Messenger Kids, which won't have advertising. The only data collected from the new app is names.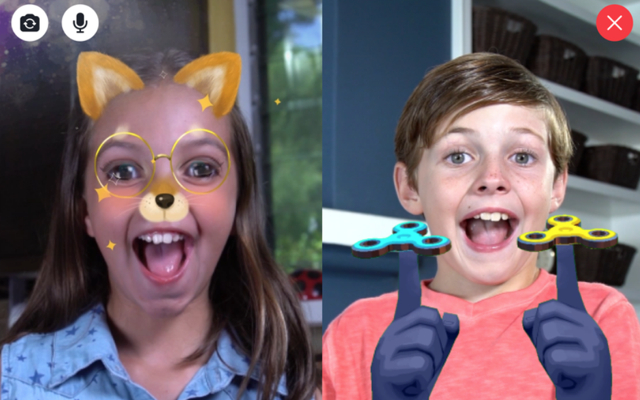 "What parents told us is there is a clear need for a service that looks like a responsible on-ramp to the Internet," said Facebook spokesman William Nevius. Introducing children to Facebook at a young age may help the social media company keep them there as they grow into their teenage and young adult years, rather than gravitate to Snapchat.
Facebook notes that it "won't migrate the Kids users to the main app when they turn 13." Facebook will not allow children under 13 to have an account without parental consent. Many child development experts, however, say that Facebook's Messenger Kids "could present dangers with the messages children see, and the way they could get hooked on social media."
"In my research, clinical work and friendships, I've never heard parents say that they want their child using social media earlier," said University of Michigan assistant professor, pediatrics Jenny Radesky, who suggests that the targeted age group "isn't ready for a messaging app."
"It's the content of messaging — the unintentional slights, insults or oversharing — that I would want parents to be able to monitor," she said, adding that, "when child usage becomes prolonged and immersive it can interrupt or displace other important activities such as reading, sleep or social interactions."
The New York Times reports that, "Facebook's official entry into the children's market is a watershed moment both for families and for the social network." That's in part because the Children's Online Privacy Protection Act (also known as COPPA) is a federal law that "requires services aimed at children to obtain verifiable parental consent before collecting, using or disclosing personal information from a child under 13."
That's been too high a bar for many social media platforms; Facebook says the COPPA-compliant Messenger Kids provides "a more controlled environment for the types of activity that were already occurring across smartphones and tablets among family members."
Although Messenger Kids product director Loren Cheng says that, "Facebook would not use for marketing purposes the details it collected from children," it will collect the "texts, audio and videos children send, as well as information about whom the child interacts with on the service, what features they use and how long the children use them" and "may share information collected in the app with other Facebook services."