During the 2014 Consumer Electronics Show, held January 6-10 in Las Vegas, ETC tracked the keynote addresses, evolving industry trends and product demos relevant to our member companies. More than 105 original stories and a regularly updated Flickr stream were made available on ETCentric and via daily email alerts. We've prepared an excerpt of the Executive Summary from ETC's CES Final Report, a document which is prepared as an exclusive benefit for ETC's Gold and Platinum members.
4K Everywhere, Content Anywhere, The Internet of Everything, & Wearable Tech
The promise of the future is gaining momentum and velocity. Technologies and concepts, such as 4K, UHD, Augmented Television and Content Everywhere, introduced in years past were on display throughout the more than 2 million square feet of exhibit space in real products. While there were no seismic shifts this year, the general categories of Presence, Wearables, Automotive, and 3D Printing reveal the contours of change and opportunity over the next 3-5 years.
Trends to Follow
The ETC@USC focused on 7 trends to follow during CES:
4K and UHD
Gaming
Wearable Tech and Personal Data
Connected Content
The Internet of Things
Cloud Services
Oddities and Outliers
This report details ETC findings in each of these areas, except The Cloud. The speed with which The Cloud has been embraced was reflected on the show floor and conference sessions less as a separate category for consumers as it is an integral and integrated part of the "Smart" revolution.
Every CE manufacturer, both premium and value, announced partnerships with various content carriers including Netflix, Hulu, M-GO and Roku. Smarter, more refined discovery and recommendation technologies calibrated to the individual are among the features announced in the latest generation of televisions and services, many built on Android, iOS and, in the case of LG, webOS. Both consumer data and the metadata associated with the content are vital to these technologies. Increasing dependence on a Cloud infrastructure appears evident.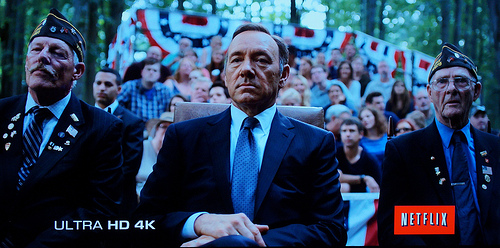 Key Takeaways
UHD Adoption may be quicker than expected. Value-priced manufacturers' introduction of sub-$1,000 displays plus low-cost upconversion will balance the premium manufacturers to make UHD affordable for a wider audience and increase demand for 4K programming.
The Internet of Things (IoT) is a smarter, more connected world in which devices are far more powerful, intuitive, integrated and know us better. Sensors connect us to our devices — and devices to devices. Intel's Edison processor delivers computing power in the size of an SD card.
Presence, an extension of the IoT, is knowing our customers and their requests, where they are, who is with them, what we know they like, and what products we have to engage them.
Hi-Res Audio: The audience is listening and so are the manufacturers. Audio catches up with video to deliver vast improvements in mobile and the home.
Social and Augmented Television effectively become the second screen experience.
3D Printing goes mainstream. Even food can be printed. Expect a new market for consumer products.
The Automobile as a mobile family room. Advent of piloted driving combined with advanced Internet connectivity open new programming channel.
Immersive entertainment enabled by head-mounted display products support "world building" design and potential for new forms of storytelling.
Wearable Tech, today largely limited to health & fitness, is open to new engagement with entertainment.
Kids Tablets: Fuhu's deal with DreamWorks Animation is only part of an expanding line of tablets designed for the young, with compelling opportunities for content distribution.
CE Market Snapshot
The Consumer Electronics Association projects a record $208 billion in U.S. sales, up 2.4 percent over 2013, and an estimated $1.07 trillion worldwide in 2014. CEA also predicts more than $1 billion worth of Ultra HD displays are expected to ship in 2014 with the greatest uptake of UHD expected in Asia. Tablet sales are expected to reach 89.3 million in unit sales, up from 77.4 million in 2013. Steve Koenig, director of industry analysis at the CEA, noted a trend towards homes having one large screen and multiple smaller displays, usually a tablet, replacing smaller TVs and other devices.

Topics:
3D
,
4K
,
Android
,
Apple
,
Augmented
,
Auto
,
Car
,
CEA
,
CES
,
Cloud
,
Connected
,
Consumer
,
Edison
,
Electronics
,
ETC
,
ETCentric
,
Fitness
,
Flickr
,
Game
,
Gamer
,
Gaming
,
Gold
,
Google
,
HD
,
Health
,
Hulu
,
Intel
,
Internet
,
iOS
,
IoT
,
Keynote
,
Koenig
,
Las Vegas
,
LG
,
M-GO
,
Mobile
,
Netflix
,
Phone
,
Platinum
,
Presence
,
Printing
,
Roku
,
Show
,
Smartphone
,
Tablet
,
Television
,
TV
,
UHD
,
Ultra
,
USC
,
Vehicle
,
Wearable
,
webOS