There are currently 2.6 billion smartphone subscriptions worldwide, and while developing markets have been leveling off, less mature markets are starting to experience significant growth. According to the latest annual Mobility Report from Ericsson, we should expect to see 6.1 billion smartphones in circulation by 2020, at which point phones will exceed the number of active fixed line subscriptions globally. Ericsson projects that the total number of mobile subscriptions will reach 9.2 billion in five years, as less developed markets continue their expansion.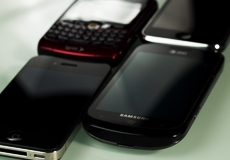 "When you take into account Internet of Things and M2M services, mobile broadband and even some basic remaining feature phones, there will be 26 billion connected devices in five years' time," reports TechCrunch.
Ericsson suggests that by 2020 smartphones will account for 80 percent of all mobile data traffic worldwide, despite the growth of new mobile-based services. This highlights the need for carriers to continue investing in networks, companies such as Facebook and Google to keep experimenting with connectivity alternatives, and businesses to develop apps and services that address mobile demand.
Video presently accounts for 45 percent of app traffic, and is expected to jump to 60 percent (however, Cisco predicts video will be responsible for 80 percent of the world's Internet consumption by 2019).
"The story here is about OTT providers like YouTube and Netflix, which are the two most popular and therefore the biggest gobblers of bandwidth," notes TechCrunch. "Video consumption on mobile is currently growing at a rate of 55 percent annually, Ericsson says. It further notes that YouTube alone accounts for between 40-60 percent of all video traffic today. Interestingly, music streaming is in a firm second place, and although it is 'gaining popularity' its unlikely to overtake video at any point."
Topics:
Apps
,
Bandwidth
,
Broadband
,
Carriers
,
Cisco
,
Connected Devices
,
Data
,
Ericsson
,
Facebook
,
Google
,
Internet
,
Internet of Things
,
IoT
,
M2M
,
Mobile
,
Mobility Report
,
Movies
,
Music
,
Music Videos
,
Netflix
,
Networks
,
OTT
,
Smartphones
,
Songs
,
Streaming
,
Subscriptions
,
Tablets
,
TV Shows
,
Video
,
YouTube