On February 2, electronic dance producer Marshmello performed a 10-minute concert — as a digital avatar — to gamers playing the popular game "Fortnite." The runaway success of this unusual mix highlights how games can not only gather millions of players, but also become a stage for a variety of entertainment. Marshmello's representatives stated that the concert "attracted millions of viewers." In June, Marshmello participated in an Epic Games' "Fortnite" tournament, teamed with Tyler "Ninja" Blevins, a celebrity gamer.
The Wall Street Journal reports that, "Marshmello later that night performed for tournament competitors and staff, and the two sides stayed in touch," with further conversations leading to the concert idea. During the concert, Epic prevented viewers from playing the game. Instead, they were placed in front of a virtual stage where they could dance and were thrown in the air.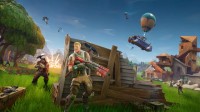 The Marshmello concert was free but, the same as past Epic Games' events, "players could buy virtual costumes, weapons and dance moves specially designed for the event." A costume with a marshmallow head, for example, cost $15, and "a Marsh Walk dance move, also known as an emote, went for $5." Marshmello did not reveal the financial terms of the event.
Loup Ventures analysts said the Marshmello concert "racked up more than $30 million in sales of virtual goods, compared with between $5 million and $10 million on a typical day." Epic Games previously teamed with The Walt Disney Company (an investor) and the National Football League on "special in-game events."
According to SuperData Research, since "Fortnite" debuted in 2017, it's earned $2.4 billion in revenue. In November, Epic said the game had 200 million players, "up from 125 million in June, and had seen a record 8.3 million people playing at one time." These kinds of numbers are behind Netflix's comment that "Fortnite" is a bigger threat than HBO.
For the "Fortnite" concert, Marshmello performed hit songs live from a studio, "and urged the audience to dance." On his YouTube channel, a video of the performance racked up more than 18 million views. MIDiA Research analyst Mark Mulligan noted that, with the concert, "Fortnite" is "proving it can be a platform not just for shared gaming but for shared experiences."
Although online concert experiences have been tried many times, via live streams and virtual reality, the Marshmello concert "stood out because attendance essentially was mandatory for anybody playing competitive matches at the time … [and] no one had to log in to a special server, sign a digital waiver or buy a ticket." "Instead of playing to an audience of existing fans, Marshmello was handed, on a plate, millions of new fans in an instant, who felt like they were part of something," said Mulligan.
Nielsen Music data showed that "online listening to the DJ's music skyrocketed following the event, including a 241-fold increase for video streams of 'Check This Out' — one of the songs he performed during the concert." This kind of collaboration, added WSJ, "could allow artists to reach fans who can't make it to a live show."
Related:
Fortnite's Marshmello Concert Is the Future of the Multiverse, Wired, 2/5/19
Fortnite Is the Future, but Probably Not for the Reasons You Think, REDEF, 2/5/19