Cinematographer Curtis Clark, ASC was presented with the John A. Bonner Award at the Academy of Motion Picture Arts & Science's annual Scientific and Technical Awards ceremony on February 9. The award, which began in 1977 and is not awarded every year, acknowledges Clark's "dedicated work in helping to shape the future of motion-picture technology and educate the industry at large." Sixteen years ago, Curtis founded the ASC Motion Imaging Technology Council (MITC), which he continues to lead.
Clark, whose cinematography credits include "The Draughtsman's Contract" and "Alamo Bay" among  others, reported he was drawn early to the technical nature of filmmaking. "[While] at the London Film School … I felt compelled to understand the technical foundation of the motion picture image to better explore the artistic possibilities," said Clark in his acceptance speech.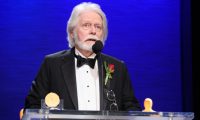 He was invited to join the ASC in 1991, after being proposed by members Stephen Burum, Allen Daviau and Steven Poster, and his career took a turn towards commercials, where he was able to use his knowledge of cutting edge technologies.
In 1992, Kodak's Cineon introduced the digital intermediate, which allowed film to be scanned to a digital format where it was manipulated and then recorded back out to film. With the rise of digital technologies in the filmmaking process, Curtis felt passionately about the need to investigate the impact of these new tools. "It was my mission to do that and the ASC wanted that ability to put a team together to come up with best practices recommendations and solutions to challenges we were facing," he said.
MITC (originally dubbed the Technology Committee) was first charged with investigating the nascent digital cinema technologies, to ensure that they developed in a way that would retain the creative work of the cinematographer. For that reason, in 2003, the Technology Committee joined the work of DCI, a joint initiative of the major motion picture studios on digital cinema projection.
With Clark as an executive producer, the Committee produced StEM, the Standard Evaluation Material, which was used by DCI "to create the imaging quality requirements for digital cinema that enabled the evaluation of digital cinema projection systems."
In 2012, the ASC-PGA Image Control Assessment Series (ICAS) assessed five digital motion picture cameras in comparison with a film reference using an ACES-based 4K DI post production workflow. ACES (Academy Color Encoding System) is an on-going collaborative project between the Academy and ASC's Motion Imaging Technology Council that continues to this day. The DI Committee of the Motion Imaging Technology Council also developed the ASC Color Decision List (CDL), which is now the de facto industry standard for "cross-platform primary RGB color grading."
In 2013, Clark was honored with the ASC Presidents Award for "his indefatigable efforts in presiding over MITC and helping to shape the future of cinematography." Referring to Clark's Bonner Award, ASC executive director Eric Rodli called it a "great and well-deserved honor for the tremendous amount of work that Curtis has performed to improve our industry."
In his acceptance speech, Clark thanked, "those dedicated individuals who have consistently contributed their considerable talents to the work of our ASC Technology Council."
Topics:
4K
,
ACES
,
Allen Daviau
,
AMPAS
,
ASC
,
Cameras
,
CDL
,
Cinematography
,
Cineon
,
Curtis Clark
,
DCI
,
Digital Cinema
,
Eric Rodli
,
ICAS
,
John A. Bonner Award
,
Kodak
,
London Film School
,
MITC
,
Motion Imaging Technology Council
,
Movies
,
Production
,
Scientific and Technical Awards
,
STEM
,
Stephen Burum
,
Steven Poster