Disney has launched its new Disney Movies Anywhere (DMA), that allows consumers to purchase movies and store them in the cloud. Launching initially for iOS and the Web, the service is integrated with the Apple iTunes Store. Users can browse, buy and view more than 400 Disney, Pixar and Marvel movies (however, R-rated movies are not included). DMA is powered by Keychest digital storage and streaming tech, developed by Disney, the first to offer movies and TV shows through iTunes.
In addition, users can earn points towards rewards with digital purchases and access special clips and features.
"Disney's strategy stands out from its competitors in Hollywood, all of which support an initiative called UltraViolet, which allows customers to store movies from different studios and retailers in a single virtual online locker and watch them on most Internet-connected devices," reports The Wall Street Journal. "UltraViolet has several online partners, but its most notable omission is Apple's iTunes."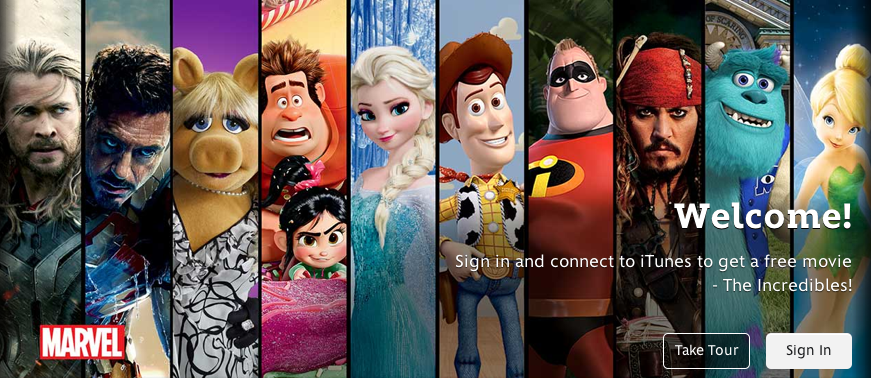 "If you're going to do digital retailers, Apple is far and away the best one to have," said Disney Studios CTO Jamie Voris, noting that integration with additional partners in the future is likely. The article cites mobile devices running Google's Android and Microsoft's Xbox console.
"This is phase one and we're going to continue to grow over time," said Voris.
"Because Disney has a brand that resonates more powerfully than other, more generic studios, it has a history of creating its own online experiences that speak directly to its family audience," WSJ points out. "If successful, DMA could grow the company's online movie sales while keeping customers completely in a Disney-controlled environment."
Hollywood is turning to digital purchases as DVD sales continue to decline. According to the Digital Entertainment Group, revenue from online movie sales grew 47 percent in 2013 to $1.19 billion.
"Hollywood urgently wants consumers to form digital movie libraries, the modern-day equivalent of rec room shelves lined with DVDs. The reason is that selling a digital movie is three times more profitable for studios than renting one out," notes The New York Times. "To stoke sales, studios have started to routinely make new movies available for digital purchase two weeks before selling them on DVD and Blu-ray discs. The arrival of Disney Movies Anywhere may help strengthen the market even more."
For more information, visit the Disney Movies Anywhere site.
Topics:
Android
,
Anywhere
,
App
,
Apple
,
Blu-ray
,
Cloud
,
Connected
,
Console
,
DEG
,
Disney
,
DMA
,
DVD
,
Family
,
Film
,
Game
,
Google
,
Hollywood
,
Internet
,
iOS
,
iTunes
,
KeyChest
,
Locker
,
Marvel
,
Microsoft
,
Mobile
,
Motion Picture
,
Movie
,
Movie
,
Online
,
Pixar
,
Points
,
Program
,
Retail
,
Series
,
Show
,
Storage
,
Store
,
Stream
,
Streaming
,
Studio
,
Studio
,
Television
,
TV
,
UltraViolet
,
UV
,
Video
,
Voris
,
Web
,
Xbox