During the star-studded D23 Expo in Anaheim the last several days, Disney announced plans for an Epcot transformation, the new Avenger Campus theme park attractions, a retail collaboration that will bring Disney stores to select Target locations, a first-of-its-kind Cirque du Soleil show coming to Disney Springs, a summer 2020 reopening of Disney's Hotel New York in Disneyland Paris featuring a design based on the Marvel Cinematic Universe, a new port of call for Disney Cruise Lines on Eleuthera, and a new docu-series on the people behind Disney movies and parks. The company also revealed more details of its upcoming streaming video service.
Disney+ is slated to launch November 12. It will initially offer more than 500 feature films and 7,500 TV show episodes, "including new original series like 'The Mandalorian,' blockbuster hits such as 'Captain Marvel,' classics like 'The Simpsons' and the entire Pixar library," reports Engadget.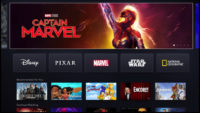 "Just last week, Disney announced Disney+ will have apps for iOS, Apple TV, Android and Xbox One, along with previously known devices such as the PlayStation 4 and Roku." The Engadget reviewer tested the new service on an Apple TV at the D23 Expo, noting that the offering features a "heavily curated and personalized experience for every viewer," which results from "a combination of human editors and machine learning algorithms."
While Disney is aiming for a simple, easy-to-use interface, it is also focused on personalization. The service supports "up to seven user profiles per account, which will let each person have their own watchlist and sections such as 'Recommended For You' and 'Continue Watching.'"
In addition to studio tiles that direct users to specific libraries, "Disney+ will also have a section for Originals, which will highlight and make it easy to find all of its first-party content," notes Engadget. "Aside from shows like 'The Mandalorian' and 'High School Musical: The Musical: The Series,' which will be available on November 12th, Disney announced at D23 Expo that it has a bunch more in the works," including series based on characters such as Kamala Khan, She-Hulk, Moon Knight and Lizzie McGuire.
"Based on the app I saw today, Disney+ seems to be quite polished for a product that won't launch for another couple of months," wrote the reviewer. "At this point, it feels as if the company is just waiting for its original content to be ready."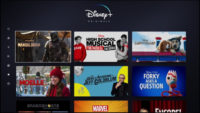 The mobile app will support offline downloads. Users will also have the ability to start viewing on one device and continue watching on a different device later. 
Disney+ will stream its content in resolution up to 4K, "with Dolby Atmos object-based sound and high dynamic range (HDR) support," notes Forbes. "In fact, it's promising to offer support for the premium Dolby Vision HDR format, with its enhanced color mastering and extra picture-boosting scene-by-scene image data."
Dolby Atmos, HDR and 4K support will be available through the $12.99 bundle with ESPN+ and Hulu as well as the standard $6.99 plan. In terms of competition, it's worth pointing out that "Netflix charges extra for its top AV tier," reports Forbes. Netflix "currently charges $16 a month for its 4K, multi-screen service — well over double the all-in Disney+ price."
For details regarding Disney's other key announcements, visit the D23 Expo site.
Topics:
4K
,
Android
,
Apple TV
,
Avenger Campus
,
Captain Marvel
,
Cirque du Soleil
,
D23 Expo
,
Disney
,
Disney Plus
,
Disney Store
,
Disneyland Paris
,
Dolby Atmos
,
Dolby Vision
,
Epcot
,
ESPN
,
HDR
,
Hulu
,
iOS
,
Marvel
,
Movie
,
Pixar
,
PlayStation 4
,
Roku
,
Target
,
The Simpsons
,
Video
,
WDI
,
Xbox One