During a press event at CES, Dish Network announced its new subscription streaming service, Sling TV, which is slated to debut in the first quarter of 2015. According to Dish President and CEO Joe Clayton, the $20/per month OTT service will offer 25-30 channels from Disney, ESPN, Scripps Networks Interactive and Turner Broadcasting, in addition to exclusive content from YouTube and Maker Studios. The bundle is targeting millennials who might not otherwise subscribe to a cable or satellite pay TV service.
Sling TV is an over-the-top service that requires no contract beyond a month-to-month commitment. It has no direct connection with Slingbox or Sling Media and can be watched over the Internet via connected devices such as the Amazon Fire TV Stick, Google Nexus Player, LG and select Samsung Smart TVs, Roku and Xbox One.
Initial channel offerings in the $20 bundle include ABC Family, Adult Swim, Cartoon Network, Disney Channel, CNN, ESPN, ESPN2, Food Network, HGTV, TBS, and TNT. Additional bundles will be made available for $5 more per month, and will start with children's programming and news.
According to the press release, "Sling TV expects to expand its core package, Video-On-Demand content, online video and add-on packs throughout 2015."
"This is not an a la carte service (you can't buy one channel at a time) and it will include the carriage of commercials," explains The Hollywood Reporter. "It also does not include local TV signals, which means there is no need for Sling TV to pay those huge retransmission license fees."
"It is unclear if all ESPN programming will be available day and date," adds THR, "and there are going to be some live programs that won't be available on mobile due to a separate agreement Disney's sports service has with Verizon."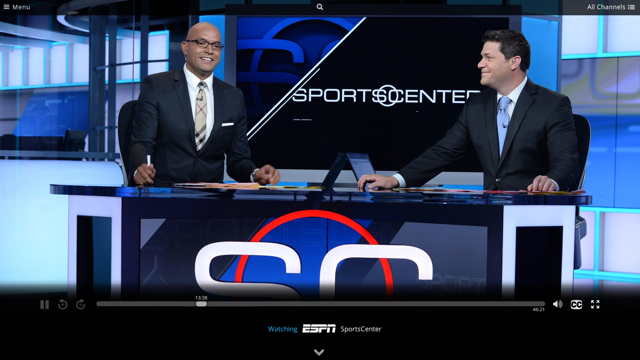 The Dish service is the latest in a series of new — and potentially disruptive — offerings expected from telecom and media companies in 2015.
"Meanwhile, the streaming outlets of Amazon, Hulu and Netflix continue to pour resources into developing more robust offerings," reports The New York Times. "Sony, CBS and HBO and others are starting Internet-only subscription offerings. The companies are trying stay relevant in the face of growing numbers of so-called cord-cutters, who have canceled their cable or satellite packages in favor of cheaper streaming alternatives, and 'cord nevers,' who have never paid for a traditional cable service."
SNL Kagan notes that the number of U.S. households that pay for broadband service but not television has increased 16 percent from 2012 to 2014.
Related Stories:
Why Dish's Sling TV Skinny Internet Bundle Isn't a Game-Changer, Variety, 1/5/15
Dish Goes After Cord-Cutters with Sling TV, a $20-per-Month Service, Engadget, 1/5/15
Topics:
2015 CES
,
Amazon
,
Amazon Fire TV
,
Cable
,
CBS
,
CEA
,
Consumer Electronics Show
,
Cord Cutters
,
Cord Nevers
,
Dish Network
,
Disney
,
ESPN
,
HBO
,
Hulu
,
Joe Clayton
,
LG
,
Maker Studios
,
Millennials
,
Netflix
,
OTT
,
Pay TV
,
Roku
,
Samsung
,
Satellite
,
Scripps
,
Sling TV
,
SNL Kagan
,
Sony
,
Turner Broadcasting
,
VOD
,
Xbox One
,
YouTube