According to new figures released from Kantar Media this week, the country's largest marketers are cutting their advertising budgets as part of the transition toward increased spending on digital ads. Kantar reports that the top 10 advertisers reduced spending by 4.2 percent last year to $15.3 billion, as compared to 2013. Top advertiser Procter & Gamble, for example, cut its ad spending by 14.4 percent in 2014. Much of the spending is shifting to digital segments including video and mobile.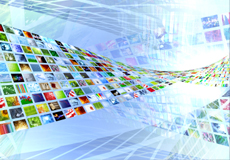 "Large advertisers in particular are the ones that are most aggressively moving budgets into digital, and the cost efficiencies of digital advertising enable many marketers to buy more for less," explained Jon Swallen, chief research officer at Kantar Media North America.
Kantar's research indicates that online display ad spending in the U.S. was flat last year, increasing a mere 0.9 percent.
"The slow growth in online display expenditures stands in contrast with the 5.5 percent increase in television ad spending last year," reports The New York Times. "Cable television ad spending rose 6.8 percent, while network television expenditures — which were buoyed in large part by the Winter Olympics — increased 2.5 percent. Spot television spending was up 5.5 percent, driven mostly by political spending for the midterm elections."
"TV is suffering on the margins from some minor shift in spending, but nowhere near as much as is commonly believed," said Brian Wieser, a senior research analyst at Pivotal Research.
Meanwhile, spending for print media and radio continued to plunge. According to Kantar, ad expenditures dropped 10 percent for newspapers, 5.1 percent for magazines and 3.9 percent for radio.
Topics:
Advertisers
,
Advertising
,
Brian Wieser
,
Broadcast
,
Cable
,
Cost Effective
,
Digital Ads
,
Internet
,
Jon Swallen
,
Kantar Media
,
Magazines
,
Marketing
,
Mobile
,
Mobile Ads
,
Networks
,
Newspapers
,
Online
,
Online Display Ads
,
Pivotal Research
,
Procter & Gamble
,
Radio
,
Research
,
Television
,
Video
,
Video Ads