Connection, collaboration, and cooperation are three words that underscore almost everything we saw during four days at CES 2023. We anticipated this would not be a show of breakthrough innovations. Instead, we expected innovative ways to use recent advances. In broad categories, AR, haptics, and AI were much in evidence. Interesting light field displays and curved screens caught our eye. There were fewer cars but way more commercial vehicles and components driving "software-defined mobility." TVs were secondary to connected ecosystems in Samsung and LG's displays, while creators took center stage for Sony, Canon, and Nikon. Clear across the show, innovation may come from startups but to scale it takes giants.
This year's CES was more than twice the size of CES 2022, which shrank at the last moment when a surge in COVID cases collided with the show dates. This year, an estimated 115,000 participants, including 40,000 from 140 different countries attended, surpassing the preshow projection of 100,000 and far more than last year's 45,000.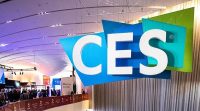 Conference sessions were generally well attended. Whether CES will ever return to its peak in-person attendance of 175,000 in 2020 is questionable, especially with digital venue options and widespread media coverage. Nonetheless, CES retains its crown as the leading showcase for technology and innovative enterprise.
There is a measure of seriousness to CES today as the show has evolved from its roots as a "gee whiz" gadget show. While some of this is public relations positioning from the Consumer Technology Association (CTA), owners and producers of CES, the pervasiveness of technology in our lives presents both opportunities and issues.
CES declared "Human Security for All" as its theme and partnered with the United Nations Trust Fund for Human Security (UNTFHS) and the World Academy of Art and Science on the Human Security for All (HS4A) global campaign to foster food security, access to healthcare, personal income, environmental protection, personal safety, community security and political freedom.
The show floor at CES can be viewed as a market indicator. For example, a shift in the television and display manufacturers became evident as the size and scope of leading Chinese companies, notably Hisense and TCL, grew along with the quality of their products.
Digital Health is another segment that has steadily grown from sidebar to significance. As this segment grows, we can see related tech such as AR and sensors associated with products and services. Whether the combination of these technologies and products have a meaningful role to play in entertainment remains to be seen but with more immersive worlds and activities on the horizon, it is worth watching.
What was not on display can also be revealing. The collapse of crypto exchange FTX and decline in cryptocurrencies dampened Web3 and Fintech. Other than Samsung's folding and expandable Flex Hybrid and satellite messaging services from Bullitt and Qualcomm, there wasn't much new in mobile phone products.
5G, the buzzword of the show a few years ago, was a whisper except that its rollout enables a myriad of products and services imagined in the future. One example is what Kim Libreri, chief technology officer of Epic Games, showed in Sony Honda Mobility's prototype car, saying the most natural way to visualize important data within the car is through intuitive interactive photoreal augmentation, which is what Unreal Engine does best.
Eureka Park, the startup arena, was dominated by country booths, aggregating startups from their regions. This meant fewer individual booths and a shift in tone. Only a few years ago Eureka Park was a tabletop showcase in a basement ballroom. It was a place where we first saw autocomplete for phones. Another year, a viable digital wallet appeared and was quickly acquired by Samsung for its mobile phones.
Despite the changing composition of the Eureka Park layout, there were still several AR, AI and audio advances that will be included in our forthcoming report.
The pre-show launch of ChatGPT elevated the discussion of and interest in AI. Where everyone seemed to inject metaverse into their pitches last year, AI was everywhere. With post CES-buzz, it seems that ChatGPT's servers were overwhelmed with users getting a pithy message written by the AI in the style of Shakespeare.
ETCentric will continue to report on products and announcements as we prepare our complete written report.
Topics:
5G
,
Artificial Intelligence
,
Augmented Reality
,
Automotive
,
Bullitt
,
Canon
,
Car
,
CES 2023
,
ChatGPT
,
COVID-19
,
Cryptocurrency
,
CTA
,
Display
,
Epic Games
,
FTX
,
Haptic
,
Hisense
,
Kim Libreri
,
LG
,
Metaverse
,
Nikon
,
Qualcomm
,
Samsung
,
Satellite
,
Security
,
Sony
,
Sony Honda Mobility
,
TCL
,
Television
,
Unreal Engine
,
UNTFHS
,
Web3