CES 2020 expanded its media and entertainment-oriented C-Space to cover more interests, but four themes repeated across virtually every conversation and panel: data, privacy, quality and a genuine respect for the audience. Data was at the heart of the discussions. Never before has there been more information available, but how it is managed emerged as a consensus issue because few companies are organized to share data and insights across their enterprise. With the promise of optimizing experiences for consumers is a balance of privacy.
The C in C-Space was initially shorthand for CMOs, the heads of marketing. Abundant private meeting suites hosted by every major ad sales group in the world underscored the need for consumer brands to reach consumers. While marketing is still the dominant topic of C-Space sessions, the difference at CES 2020 is a focus on two other C words: content and consumers.
Content is the attraction; it is what draws the audience — the viewers, listeners and readers that brands want as customers. Everyone depends on customers — call them consumers, audience and, hopefully, fans.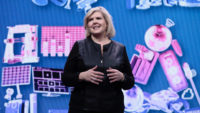 We spoke to Karen Chupka (above, photo courtesy of CTA), executive vice president of the Consumer Technology Association (CTA) and the principal driver of the C-Space concept. The original construct was designed to attract entertainment companies to CES. 
The show's themes directly impact and enable broader content distribution. The value and relationship between hardware and content creators is evident everywhere, at CES and in the real world. Chupka also noted the influence of marketing on technology decisions at companies. Marketing is now a driver rather than a backseat passenger.
One session, "Up Close and Personal Brand Engagement" — with panelists from Coca-Cola, Hilton, Lyft, Samsung and Ernst & Young — explored the holy grail of reaching the right consumer with the right message in the right place at the right time as it becomes increasingly possible to accomplish with data and artificial intelligence. 
Armin Molavi, vice president of global media strategy at Hilton, addressed the privacy questions that emerge. "You can get very close to personally identifiable information (PII) without crossing the line," he said.
Other panelists, including Samsung's Grace Dolan, vice president of home entertainment integrated marketing, and Austin Schumacher, Lyft's head of culture and entertainment marketing, talked about the value of broad data to gain actionable market insight without getting anywhere close to PII.
Hilton can leverage celebrity trust, for example, to drive products, engagement and marketing content that matters to their guests. Coca-Cola national director strategic partnership marketing Bill Lathrop can apply "aggregated data" to understand how, where, when, with what their beverages and products are consumed.
Dolan was clear-eyed about the general commoditization of TVs, but cited generalized indicators of Samsung's appeal to gamers as the television of choice because of its ultra-low millisecond latency, critical in competitive gameplay. "How do we surprise and delight beyond living rooms?" she asked. Aggregated data helps Samsung answer, "how do we swap out features to meet — and exceed — consumer demand?"
In another session, "People, Data, and Technology: New Marketing Imperatives," panelists debated the challenges and opportunities of increasingly data-driven processes and the human dimension. The panel included Sarah Kennedy of Adobe, Bill Magnuson of Braze, John McAteer of Google, Todd Paris of Deloitte Consulting, and Sarita Rao of AT&T Business. 
The panelists advocated a human-centered organizational model, where data and AI provide insight but the human element is wholly an element in the equation. Consumer engagement is not strictly a marketing challenge. Marketing may drive attention but engagement depends on the product or content. 
This opened an interesting conversation about the role and definition of marketing, suggesting that "marketing" is an unrealistically limiting word that silos the function and reinforces an outdated notion that treats marketing and product development as separate.
Topics:
Adobe
,
Advertising
,
Aggregated Data
,
Armin Molavi
,
Artificial Intelligence
,
AT&T
,
Austin Schumacher
,
Bill Lathrop
,
Bill Magnuson
,
Braze
,
CES 2020
,
Coca-Cola
,
CTA
,
Deloitte Consulting
,
Ernst & Young
,
Google
,
Grace Dolan
,
Hilton
,
John McAteer
,
Karen Chupka
,
Lyft
,
Marketing
,
PII
,
Privacy
,
Samsung
,
Sarah Kennedy
,
Sarita Rao
,
Todd Paris