CES is not a computing show, but this year's edition felt silicon-centric thanks to major announcements from Intel and AMD. Intel revealed more details about its next CPU, Tiger Lake, that boasts improved performance on graphics and AI. The company also offered a glimpse of its first discrete GPU. But the show arguably belonged to AMD, which continued its year-long renaissance with a keynote unveiling mobile CPUs, a new midrange GPU, and the world's fastest workstation processor.
AMD claims that its new 64-thread, 128-core Ryzen Threadripper 3990X can outperform two of Intel's Xeon workstations by 30 percent with a price tag of less than half of a single Intel Xeon 8280. Meant for high-end content creators and number crunchers, the Threadripper is set to leave the rest of the workstation market behind. 
Before that bombshell announcement, AMD also announced its intentions regarding the mobile market with the Ryzen 4000 lineup of CPUs. Without a hands-on demo, analysts only have the vital stats provided by AMD to go by, but the numbers suggest that these new chips will be favored for raw power against their competitors' silicon. However, the jury's out on power consumption — obviously a key factor for mobile devices and laptops.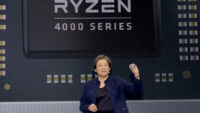 While less-buzzworthy, but still critically important, AMD also presented the Radeon RX 5600 XT, which is set to compete against Nvidia's mainstream (read: affordable) cards like the GeForce GTX 1660s. Again, the price-to-performance metrics will be critical, but AMD could be poised to make a run at Nvidia on the consumer-side as well as Intel.
Speaking of Intel and discrete graphics, Intel provided a technical preview of its first discrete GPU, the DG1. The demo during the keynote was more of a "proof-of-life," so details are still scant, but it is based on Intel's Xe dedicated GPU architecture. Beyond these discrete PCIe cards, Intel may also be planning to include the Xe graphics cores in its next generation processor, Tiger Lake.
Intel stated that Tiger Lake would offer "double-digit" performance increases over their previous architectures. The company also claims that Tiger Lake would feature improved graphics performance, which again points to the inclusion of Xe GPUs. Because GPUs can be used as accelerators for things other than graphics, deep learning being a key application, this would be a powerful step forward in on-chip, multipurpose computing. It also underscores Intel's current advantage in fabrication.
Related:
Chip Wars 2020: What AMD, Intel, Nvidia, and Qualcomm Announced at CES, Fortune, 1/7/20
AMD vs. Intel at CES 2020: Here's How the Chips Fell This Year, Digital Trends, 1/10/20
Intel Announces Tiger Lake Processors, With Double the Graphics Performance, Digital Trends, 1/6/20
NVIDIA Shows Off Autonomous Tech for Cards and Robots at CES 2020, TechRepublic, 1/6/20
Qualcomm Chips to Power World's First 5G PC, Investor's Business Daily, 1/7/20
Topics:
AMD
,
AMD Ryzen
,
Artificial Intelligence
,
CES 2020
,
Computing
,
CPU
,
CTA
,
Deep Learning
,
Discrete GPU
,
GeForce GTX
,
GPU
,
Graphics
,
Intel
,
Intel DG1
,
Intel Xe
,
Intel Xeon
,
Intel Xeon 8280
,
Laptop
,
Mobile
,
Nvidia
,
Processor
,
Radeon
,
Radeon RX 5600 XT
,
Ryzen
,
Ryzen 4000
,
Ryzen Threadripper 3990X
,
Tiger Lake