Since 2016, each edition of CES has touted the imminent arrival of "Fully Self-Driving" (SAE Level 5) autonomous vehicles. While some companies working on "mostly self-driving" offered rides around town (like Russian-based Yandex), this year's show came with a dose of realism as companies focus on clearing the hurdles associated with lower levels of autonomy. Demonstrating these efforts, companies showcased sensor fusion, mapping technologies and new intelligent systems. Meanwhile, some companies are using this calm before the storm to focus on the user experience. Sony even built a car to jumpstart the conversation.
Sony's Vision-S (photos below) is a rolling test bed (made with help from Bosch, BlackBerry, Nvidia and Qualcomm) built to prototype new entertainment systems. It is roadworthy and features safety systems similar to what Volvo demoed last year (driver monitoring for intoxication, drowsiness, and more). The prototype is a clear attempt to crack the automotive market, one currently dominated by Samsung-Harman, ahead of the arrival of fully autonomous vehicles.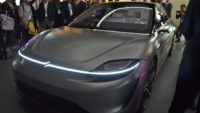 Similarly, BMW's booth was also turning sensors inward to focus on the user/rider with the i3 Urban Suite concept. Beyond swanky interiors featuring ultra-reclining seats, one intriguing aspect of its offering was the i Interaction Ease system. Among other things, it uses gaze recognition to determine the cars response to user input. For instance, if a user looks out at a roadside attraction (like a restaurant) a virtual assistant could provide additional information (e.g. menus, opening hours), or, if the user looks at in-car equipment (like sun roofs and windows) a preferred action could occur.
Other companies like Cerence, HERE Technologies and FLIR Systems are working on ancillary systems that will likely contribute key pieces to the larger AV puzzle. Cerences, for instance, is employing a similar approach to BMW, gesture and gaze tracking together with natural language processing, to investigate how users can best interact with autonomous public transport like buses. HERE, meanwhile, is building geospatial information databases that will feed these autonomous systems.
FLIR, the infrared imaging company, was again at the show to tout the necessity of multiple sensor modalities for AVs. They demonstrated how the use of their sensors, together with the more traditional sensors (like cameras and LIDAR) could prevent failures in pedestrian detection that AAA showed recently was a major problem with current autonomous driving systems.
Lastly, on the computing side, this show saw Qualcomm's first entry into autonomous-driving systems with the Snapdragon Ride. The company hopes to join Nvidia and Intel's Mobileye.
Related:
Sony's Electric Car Is the Best Surprise of CES, The Verge, 1/8/20
A Dispatch From Inside Sony's Prototype Electric Car, Engadget, 1/7/20
Mercedes-Benz and James Cameron Built an Avatar-Inspired Car Perfect for Pandora, TechCrunch, 1/6/20
CES: James Cameron Unveils 'Avatar 2' Concept Art, as Mercedes-Benz Shows Off Pandora-Inspired Car, Variety, 1/6/20
Topics:
AAA
,
Automotive
,
Autonomous Vehicles
,
BlackBerry
,
BMW
,
Bosch
,
Cerence
,
CES 2020
,
CTA
,
Eye Tracking
,
FLIR Systems
,
Gaze Tracking
,
Harman
,
HERE Technologies
,
i3 Urban Suite
,
Intel
,
Lidar
,
Mapping
,
Mobileye
,
Nvidia
,
Qualcomm
,
SAE Level 5
,
Samsung
,
Self-Driving Cars
,
Sensors
,
Snapdragon Ride
,
Sony
,
User Experience
,
Vision-S
,
Volvo
,
Yandex