During CES 2021, LG Electronics introduced Evo, its high-end OLED TV that features greatly improved light output. OLED TVs offer superior picture quality to LCD TVs, as each pixel can turn on and turn off its own light. But OLED TVs offer half that of the brightest LCD TVs, hobbling the overall picture quality. This year, LG's Evo and Sony's new OLED TVs offer more brightness. In addition to LG, only Sony and Vizio sell OLED TVs, all produced by LG Display. During CES, LG also showcased new QNED Mini LED and NanoCell TV models.
CNET reports that LG has unveiled its Z1, G1, C1 and A1 TV series. The Z1 series offers "the only OLED you can buy with 8K resolution" in a 77-inch size, priced at $30,000.
The G1 series, where the "G" stands for Gallery, has a "slim, wall-hugging design first introduced last year," and includes the Evo TV with a "new luminous element, described as a new layer of green … which provides more color purity and extra brightness."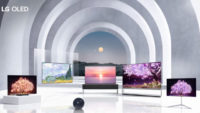 Both G1 and Z1 models have a remote with three built-in voice assistants: Google Assistant, Amazon Alexa and LG's ThinQ system "as well as additional hotkeys for more streaming services."
For LG's C1 baseline series of OLED TVs, this year the company unveiled an 83-inch version but the line is otherwise "very similar to the 2020 CX, although LG has upgraded its A9 processor again to the fourth generation, adding scene detection and upgrading object enhancement." For gaming, says CNET, the CX was its pick "as the overall best TV for gaming." LG plans to "continue to support next-gen gaming features like Nvidia G-Sync, FreeSync, VRR and 4K/120Hz input (on all four HDMI ports)."
The company is also "adding a new Game Optimizer feature … designed to automatically recognize and classify games by genre, for example First-Person Shooter, Strategy or Role-Playing, and adjust contrast, clarity and shadow detail accordingly." A single screen "gathers all game-related data and settings, including genre settings, VRR status, blue light reduction and input lag delay, in one place."
In 2021, LG's TVs will also work with Google Stadia beginning in Q2 and Nvidia GeForce Now beginning in Q4, with gamers needing only "one of the platform's controllers, a subscription and a fast Internet connection."
TV Technology reports that LG's new LCD panel "combines Quantum NanoCell Color Technology with mini LED backlighting." Also new is LG's intelligent processor, "the α (Alpha) Gen 4 AI, which works with new models in the G1 and C1 series, LG QNED MiniLED TV models QNED99 and QNED95 and NanoCell TV models NANO99 and NANO95."
Relying on deep learning, the processor analyzes and optimizes content. It also integrates "the AI Picture Pro, which recognizes content, removes noise and optimizes picture quality, and a Scene Detection feature that can analyze the type of scene and adjust picture settings accordingly." The processor also incorporates a new version of LG's AI Sound Pro, with Virtual 5.1.2 surround sound up-mixing and Auto Volume Leveling.
LG reported that its OLED 43C1 display was named a CES 2021 Best Innovation Award winner. For more information on LG TV technology and products, visit the LG Newsroom or check out its related CES press release.
Click here for more information on the speakers, panels and new products at CES 2021 (#CES2021).
Topics:
4K
,
8K
,
Amazon Alexa
,
CES
,
CES 2021
,
FreeSync
,
Game Optimizer
,
Gaming
,
Google Assistant
,
Google Stadia
,
LCD
,
LG A1 Series
,
LG C1 Series
,
LG Display
,
LG Electronics
,
LG Evo
,
LG G1 Series
,
LG Z1 Series
,
Mini-LED
,
NanoCell
,
Nvidia G-Sync
,
Nvidia GeForce NOW
,
OLED
,
QNED
,
Scene Detection
,
Sony
,
ThinQ
,
Vizio