At the all-digital CES 2021, Razer's Blade 15 gaming laptop was introduced with the option to add a QHD screen, one of a few manufacturers adding these screens to gaming machines for the first time. Gamers who use desktop computers favor QHD screens for their 1440p resolution, affordable price, multiple features and compatibility with high-end AMD and Nvidia graphics cards. Until now, gamers could opt only for a 1080p or 4K screen (which reduces frame rate to unplayable levels) — or output to a separate 1440p monitor.
The Verge reports that, in 2021, "machines powered by [Nvidia's] RTX 3000-series and AMD's incoming RDNA 2 graphics chips will take full advantage of QHD." For the Blade 15, consumers will pay "$200 more than the model that features an FHD 144Hz panel … [for] a machine with a QHD IPS screen with a 165Hz refresh rate, along with the new Nvidia RTX 3070 and a six-core 10th Gen Intel Core i7 processor."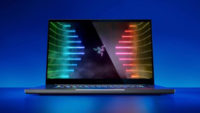 Also in 2021, Acer is unveiling its latest Nitro 5 with an optional QHD screen. As other OEMs follow suit, the reviewer opines that he "wouldn't be surprised to see gaming laptops with QHD screens falling below the sub-$2K price point this year."
Engadget reports that high refresh rate Quad HD (1440p, QHD) screens are an "intriguing upgrade" shown at CES 2021. "That gives gamers a higher resolution choice than standard 1080p panels, but without jumping all the way to 4K, which is incredibly demanding for native rendering," it notes. Both Razer notebooks (Blade 17 Pro pictured above) will also feature "the current 10th gen H-series chips, maxing out with the 8-core i7-10875H … [and Nvidia's] RTX 30 GPUs, … a healthy upgrade over Nvidia RTX 20 Super GPUs."
The standard Blade 15, it adds, "can be equipped with a 144Hz 1080p screen with a serviceable 8ms response time … [or the consumer] can also upgrade to a faster 3ms Quad HD 165Hz display … [while] the Blade 15 Advanced … offers 360Hz 1080p at 2ms, 60Hz 4K OLED at 1ms and a 240Hz Quad HD screen."
The QHD, it notes, "is the only one with Nvidia G-SYNC and Advanced Optimus, which will help it smooth out gameplay and intelligently switch between integrated and dedicated GPUs." Specs for the Blade Pro 17 include "a 360Hz 1080p 17.3-inch screen, 165Hz Quad HD and a 120Hz 4K panel (another first for Razer)."
Otherwise, the Razer notebooks are largely the same with regard to design, including offering ports for USB-A, USB-C 3.2, Thunderbolt, HDMI 2.1 and Gigabit Ethernet, with the Blade 15 Advanced and the Blade Pro 17 also offering a built-in SD card reader." "The addition of QHD screens is a major change for gamers," says the reviewer. "Thus far, we've had to settle for lowly 1080p panels just to get higher refresh rates, but now you can get speed and a slight resolution bump."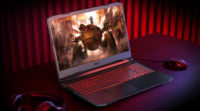 Acer's new Nitro 5 gaming laptop (pictured above) will launch in February. Razer's Blade 15 and Blade Pro 17 became available for preorder on January 12, with Blade 15 reaching retailer shelves on January 26.
Related:
The Best New Gaming Laptops of CES 2021, Digital Trends, 1/14/21
At CES 2021, Gaming Laptops Aren't What They Used to Be, and That's a Good Thing, CNET, 1/15/21
Acer's Latest Nitro 5 Gaming Laptop Seems More Powerful Than Ever, The Verge, 1/12/21
Razer Conceptualizes Next-Gen Gaming Chair at CES 2021 with Project Brooklyn, CNET, 1/12/21
Topics:
1080p
,
1440p
,
4K
,
Acer
,
Acer Nitro 5
,
AMD
,
AMD RDNA 2
,
Blade 15
,
Blade 17
,
CES
,
CES 2021
,
Gaming
,
Gigabit Ethernet
,
HDMI 2.1
,
Intel
,
Intel Core i7
,
Laptop
,
Notebook
,
Nvidia
,
Nvidia RTX 3070
,
OEM
,
OLED
,
QHD Displays
,
Quad HD Display
,
Razer
,
Razor
,
RTX 30 GPU
,
RTX 3000
,
Thunderbolt
,
USB-A
,
USB-C 3.2