At Cine Gear Expo on the Paramount Pictures lot, Canon unveiled the much-anticipated Canon EOS C200 and Canon EOS C200B Digital Cinema Cameras, the latest in its EOS digital cinema line. Key new features are two 4K video formats, Canon's  Cinema RAW Light and MP4, targeting HDR productions. The cameras also have a dual DIGIC DV6 image processing system, which was developed for these cameras as well as Canon's Dual Pixel CMOS AF system. Both cameras are slated to deliver in August 2017.
According to Canon, the EOS C200, priced at $7,499, is "a production-ready solution that can be used right out of the box," and comes with an LCD monitor, LCD attachment, camera grip and handle unit as well as a 1.77 million dot OLED electronic view finder.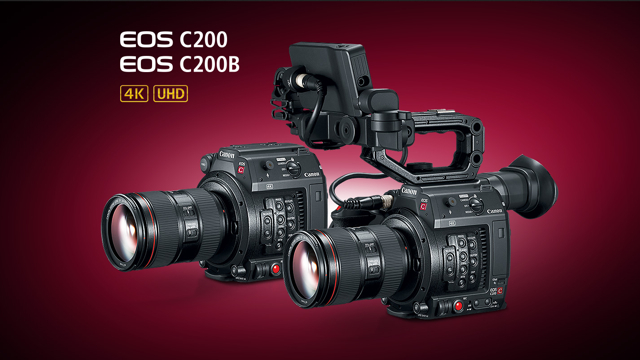 The Canon EOS C200B, priced at $5,999, is aimed at "users who crave more versatility and the ability to craft custom setups tailored to their subject or environment," as it comes without accessories and the electronic view finder "to optimize shooting using a gimbal, drone or a variety of other configurations," notes the release.
Both cameras have the same 8.85 MP CMOS sensor, which, combined with the DIGIC DV6, optimizes recording of Full HD (1920×1080), 2K (2048×1080), 4K UHD (3840×2160), and 4K DCI (4096×2160). Both cameras capture high dynamic range imagery. This combination also allows support for two new 4K/HDR film formats: Cinema RAW Light, available in 4K 60p/50p at 10 bit and 30p/25p/24p at 12 bit.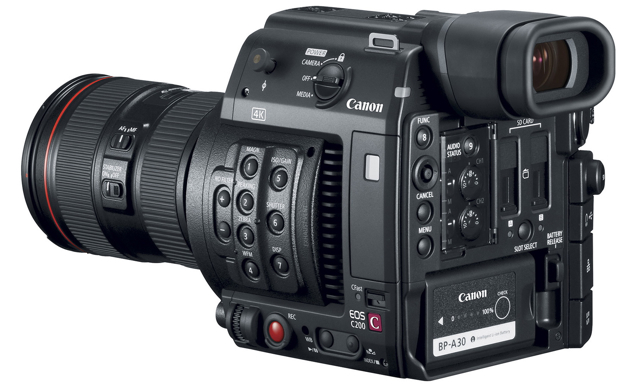 These new formats can be recorded internally to a CFast card, "by cutting data size to about one-third to one-fifth of a Cinema RAW file, without losing [color] grading flexibility," which makes it much easier for the post production process. The user can simultaneously record to an SD card and proxy data (MP4) for offline editing.
The cameras support the ability to export 4K in MP4 format on SD media cards at 60/50/30/25/24P at 8 bit. Also available is slow-motion Full HD recording at up to 120 fps and Innovative Focus Control for more precise focusing. For color grading and editing, Cinema RAW Light is compatible with Blackmagic Design's DaVinci Resolve and Avid Media Composer, using the Canon RAW plugin for Avid Media Access.
Adobe's Premiere Pro CC will also support the format until the end of 2017, and Final Cut Pro X will offer support beginning at the end of June, using Canon RAW Plugin for Final Cut Pro X.