In response to the ongoing legal battles involving startup Aereo and the potential disruption regarding pay TV, companies including DirecTV, Time Warner Cable and Charter Communications are reportedly considering the idea of capturing free broadcast TV signals to avoid paying significant retransmission fees, according to people with knowledge of the discussions. Major broadcasters have also stated they would consider a conversion to cable if Aereo stays in business.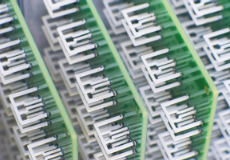 "Aereo, which charges $8 a month for online access to broadcast TV, is locked in a court battle with CBS Corp. and other media companies over the legality of its service," reports Bloomberg. "If Aereo prevails, cable companies could use the same approach to bypass the fees they now pay for network signals, said the people, who asked not to be identified because the discussions are at an early stage. Time Warner Cable has even considered buying Aereo, said one of the people."
Broadcasters have petitioned the Supreme Court to rule Aereo as an illegal operation. The Barry Diller-backed startup uses thousands of small antennas to capture free over-the-air signals in order to transmit programming to subscribers via the Internet. Broadcasters have argued the service is illegal, since it broadcasts without permission.
"Aereo's legal fight pits the New York-based startup against some of the world's largest media companies, including Walt Disney Co., 21st Century Fox Inc. and Comcast Corp.'s NBCUniversal," notes Bloomberg. "The broadcasters are trying to preserve their ability to charge retransmission fees, which let pay TV companies air CBS, ABC, NBC and Fox on their systems."
According to researcher SNL Kagan, retransmission fees are expected to double to $6.1 billion by 2018 in the U.S. Broadcast executives have argued that retransmission fees are essential to the television industry.
Fox President and Chief Operating Officer Chase Carey, CBS CEO Leslie Moonves and Univision Chairman Haim Saban have all stated that they would consider converting to cable and ceasing to provide over-the-air access if Aereo is permitted to stay in business.
Traditional cable bundling may also soon be impacted by the Aereo debate. For example, Comcast recently began promoting its new "Internet Plus" that offers Internet access, HBO and local TV channels for $40 a month.
"HBO has long said that it doesn't want to sell its service directly to consumers, in part because having cable companies work as its sales force has been working pretty well for the company," explains GigaOM. "However, Time Warner CEO Jeff Bewkes, whose company owns HBO recently brought up the idea of bundling HBO with broadband plans, calling it 'an offer you can't refuse.'"
Topics:
ABC
,
Aereo
,
Antenna
,
Battle
,
Bewkes
,
Bloomberg
,
Broadcast
,
Broadcaster
,
Cable
,
Carey
,
CBS
,
Charter
,
Comcast
,
Communications
,
Court
,
DirecTV
,
Disney
,
Distribution
,
Fees
,
FOX
,
HBO
,
Internet
,
Law
,
Legal
,
Licensing
,
Moonves
,
NBC
,
NBCUniversal
,
Network
,
New York
,
Program
,
Programming
,
Provider
,
Retrans
,
Retransmission
,
Saban
,
Satellite
,
SNL Kagan
,
Startup
,
Supreme Court
,
Television
,
Time Warner
,
TV