Blackmagic Design's release of DaVinci Resolve 15 adds Fusion, a visual effects tool often used in Hollywood films, to its professional-level color correction and audio editor. The full studio release of Resolve 15 is $300, but another, stripped down version that still includes the most important features is free. This compares to Adobe Creative Cloud, which costs more than $50 per month. DaVinci Resolve 15 is platform agnostic, running on macOS, Windows 10 and Linux, and offers four modules in one app.
Steve Dent for Engadget reports the four modules as editing, color correction, audio effects and visual effects. Resolve 15, which Dent notes is "surprisingly easy to learn and use," was debuted at the same time as Blackmagic's Pocket Cinema Camera 4K and is thus designed to handle those higher resolution files. Resolve 15, which now supports more new video formats, also features more built-in effects for the color module and tweaks to the Fairlight audio editing one.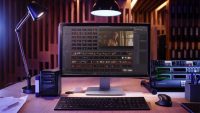 Fusion (which Blackmagic sells as a standalone app for $300) offers 3D compositing, particle effects, 3D text tools, keying, painting, and rotoscoping among other tools. Blackmagic has also improved speed for Resolve 15, "even if you're working in 4K with thousands of clips, effects and timelines," the result of a new video playback engine that uses both the CPU and GPU.
Dent compares Resolve 15's speed to Adobe's latest version of Premiere Pro CC 2018, which he calls "faster in a couple of ways but slower in others." On his Windows 10 laptop "with Nvidia GeForce GTX 1070 Max-Q graphics and an 8th-gen Intel Core i7 CPU, Resolve loaded 4K H.264 clips from Panasonic's GH5S camera much, much more quickly than its rival," but Premiere Pro was faster when it came to rendering a timeline with the same files.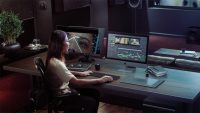 Resolve is not as powerful as Avid Media Composer, "the gold standard for media organizations," and it also lacks some of Avid's more sophisticated tools. Dent also preferred Resolve 15 over Premiere Pro for "organizing, scaling and searching clips" as well as its editing tools, which he called "more intuitive for operations like trimming heads and tails of clips, slipping and sliding (moving a clip relative to other clips or changing its in and out point), unlinking clips and more."
Resolve's color correction, which is aimed at professionals, is "less friendly" for a non-professional crowd, whereas "Adobe's color corrector is better for normals, because it looks more like Lightroom than something you'd see in a fancy post-production studio." Fusion, he added, is "one heck of a powerful VFX package," and allows the user to "work with multiple clips directly from the Edit timeline and quickly see them in context with the rest of your program."
"Even at $300, DaVinci Resolve 15 seems underpriced," concludes Dent. "It's a truly elegant and powerful editor that costs nearly nothing. Blackmagic Design has radically made over its editing suite to create one of the best video-editing systems at any price — even against mainstream options like Premiere Pro CC and Apple's Final Cut Pro X."
Topics:
3D
,
3D Compositing
,
4K
,
Adobe Creative Cloud
,
Adobe Premiere Pro CC
,
Apple
,
Audio Editing
,
Avid Media Composer
,
Blackmagic Design
,
Color Correction
,
CPU
,
DaVinci Resolve
,
FCP X
,
Fusion
,
GPU
,
Lightroom
,
Linux
,
macOS
,
Movie
,
Nvidia GeForce
,
Panasonic
,
Pocket Cinema Camera 4K
,
Post Production
,
Rotoscoping
,
VFX
,
Video Editing
,
Windows 10