Today's personal video viewing elevates the need for immersive sound. Sennheiser has created a plug-and-play solution with its new prosumer-priced 3D AMBEO Smart Headset, which was recently used for "Final Stop" — a Sennheiser-sponsored short video billed as "a 3D audio thriller." Shot on an iPhone with a professional crew, "Final Stop" leverages horror soundscapes made affordably possible by the Apogee-fueled headset. Sennheiser introduced the device last year under the AMBEO brand as a personal binaural recording headset.
The ubiquitous use of headsets in modern culture has caused renewed interest in immersive sound recording and delivery. Showcased last year, the $300 Sennheiser AMBEO Smart Headset was used this month in a first production that heavily utilized the unobtrusive personal device to record "Final Stop." The horror short serves as a compelling example of the utility and impact that prosumer level productions now have as an additional immersive element to elevate production.
Sennheiser partnered with the professional audio device company Apogee Electronics in the creation of the product. Two omnidirectional microphones integrated into the earpieces — coupled to a premium A/D converter, mic preamp and chip — power the headset. The soundscape places the listener in the exact original sound field fully captured by the earbud-like device unobtrusively on the cameraperson's head.
The downloadable Sennheiser AMBEO app allows for adjustment for three different levels of situational awareness to be folded back into the headsets to provide real-time monitoring of both sound and the situation around the cameraperson/recordist. The device is also compatible with the Apple Camera app as well as popular more dedicated video apps like Filmic Pro.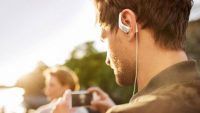 It's now easier to capture compelling 3D sound on a limited budget. And "Final Stop" provides a compelling illustration.
"Since we structured the short around the use of 3D audio, I kept the camera largely behind Phoebe, so that audiences really felt that fear of being followed," explained director Roxanne Benjamin.
"This was the element that struck me the most about the AMBEO Smart Headset when I was first testing it out — just how effective it could be in enhancing a narrative horror setting," she said. "The 3D element really brings you a whole lot closer to the action and feeling like you're right there with Phoebe as she's experiencing this fear. It'd be fascinating to see it being used for a full thriller or horror feature."
Don any headset and check out the video on YouTube. For more information on the headset, visit the Sennheiser site.
Topics:
3D Audio
,
AMBEO
,
Apogee
,
Apogee Electronics
,
Apple
,
Apple Camera
,
Audio
,
Binaural
,
Filmic Pro
,
Final Stop
,
Headset
,
Horror
,
Immersive Sound
,
iPhone
,
Microphone
,
Mobile
,
Movie
,
Production
,
Roxanne Benjamin
,
Sennheiser
,
Smart Headset
,
Soundscape
,
Video
,
YouTube