Apple CEO Tim Cook and other company execs unveiled three new iPhones and a redesigned Apple Watch Series 4 in Cupertino yesterday. Bigger and faster was the underlying theme for the new devices. The iPhone XS Max starts at $1,099 and features a 6.5-inch screen (Apple's largest to date). As expected, the entry-level iPhone XR has a 6.1-inch LCD screen and the premium iPhone XS includes a 5.8-inch display. Both XS models feature a Super Retina OLED screen and stainless steel casing (the XR is made of aluminum). Meanwhile, Apple Watch is evolving into a health-related wearable. The new smartwatch touts an ECG heart sensor approved by the FDA.
While the new iPhone XR, starting at $749 when it ships next month, is larger and cheaper than last year's iPhone X (starting at $1,000), the high-end XS line features the best cameras and displays. The XS Max's 6.5-inch OLED screen is even bigger than the latest Samsung Galaxy Note.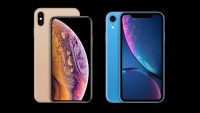 "The XS models are generally sped-up versions of last year's iPhone X," reports The New York Times. "Apple emphasized the phones' advanced processor, durable glass and so-called Super Retina OLED display with a wide color gamut. The iPhone XR will come in white, black, red, blue and yellow, and is just as fast as the XS models. It has a single-lens camera, unlike the XS models, which have dual-lens camera systems."
According to VentureBeat, the XS models "boast the A12 Bionic, a 7-nanometer chip that Apple characterized as its 'most powerful ever'," with "six cores (two performance cores and four high-power cores), a four-core GPU, and a neural engine — an eight-core dedicated machine learning processor, up from a two-core processor in the A11 — that can perform five trillion operations per second (compared to 500 million for the last-gen neural engine)."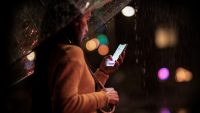 "Both phones have identical specs aside from their screens," notes The Verge in distinguishing between the XS models. They both feature "improved water resistance that's supposed to let them stay submerged in two meters of water for up to 30 minutes, and have support for two SIMs and gigabit LTE. The rear cameras have each seen improvements to make them faster (larger pixels on the wide-angle lens, a wider aperture on the telephoto lens), and the selfie camera is supposed to be faster as well."
The primary distinction is in display size and resolution. "The XS has the same 5.8-inch size, OLED tech, and 2436 x 1125 resolution as the iPhone X, though it's also supposed to have 60 percent greater dynamic range for more vibrant images," explains The Verge. "The XS Max takes the OLED screen and dynamic range gains and brings them to a 6.5-inch size, with a 2688 x 1242 resolution. Both have the same 458 ppi pixel density, so you don't lose out on sharpness by going larger."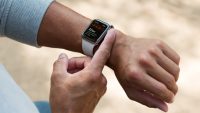 The new Apple Watch Series 4 lineup touts bigger displays, rounder corners and slightly thinner body. The company has also introduced a faster processor and improved health and motion sensors. Its sophisticated heart sensor has been "approved by the Food and Drug Administration," notes NYT. "That could lead to new implications for health care — and prove to be a major selling point for a device that has played second fiddle to the iPhone."
The Apple Watch, which will be offered in in multiple colors and band styles, will start shipping September 21, starting at $399.
Related:
iPhone XS and iPhone XR Event: Everything Important Apple Just Announced, Recode, 9/12/18
Apple iPhone XR Hands-On: The New Default iPhone, The Verge, 9/12/18
Apple Event: Refining Products and Exercising Pricing Power, Loup Ventures, 9/13/18
Apple Tries to Wipe AirPower From the History Books, ZDNet, 9/12/18
Apple Adds Heart-Monitoring, Fall-Detection Features to Its Watch, The Wall Street Journal, 9/12/18
Topics:
AirPower
,
Aluminum
,
Apple
,
Apple Watch
,
Apple Watch Series 4
,
Cameras
,
Cupertino
,
Displays
,
ECG
,
FDA
,
Fitness
,
Galaxy Note
,
HDR
,
Health
,
iPhone
,
iPhone X
,
iPhone XR
,
iPhone XS
,
iPhone XS Max
,
LCD
,
Mobile
,
OLED
,
Samsung
,
Screens
,
Sensors
,
Smartphones
,
Smartwatch
,
Stainless Steel
,
Super Retina
,
Tim Cook
,
Wearables