At the Steve Jobs Theater in Cupertino on Tuesday, Apple unveiled three new iPhones and announced the $4.99 monthly fee for its TV+ streaming video offering (to launch November 1) and Arcade video-game service (coming September 19). The iPhone 11 models — starting at prices ranging $699-$1,099 — tout updates such as new colors, improved battery life, more camera lenses, Night Mode for low-light photography, and the option to record video by simply holding down the camera button. The tech giant also unveiled an upgraded 10.2-inch iPad with A10 processor in addition to a new Series 5 Apple Watch featuring more power (starting at $399), while reducing the price of its Series 3 model about 30 percent to a low $199.
"The iPhone 11, a 6.1-inch device that updates last year's XR model, will start at $699 and include a dual-rear camera," reports The Wall Street Journal. "The iPhone 11 Pro and 11 Pro Max, with triple-rear cameras, play to the premium market with prices of $999 and $1,099."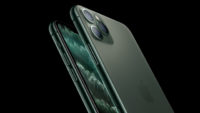 "The iPhone 11 is powered by Apple's new A13 Bionic chip, which Apple boasts is the most powerful processor ever in a mobile device," adds Digital Trends. The new Night Mode feature will activate "automatically when required, boosting light, reducing noise, and allowing users to take great photos in much lower lighting." 
"Video capabilities have been boosted too, and there's support for 4K video at 60 frames-per-second. The new Quick Take feature makes taking video much easier too — simply hold down the camera button to start taking videos."
The Apple TV+ service "comes free for a year with the purchase of a new iPhone, iPad or Mac," notes WSJ. "The company is making just a handful of shows available for the TV+ debut," so competing early with services such as Netflix and Disney+ may be a challenge. "But at $4.99 a month, TV+ is much cheaper than Netflix's $12.99 monthly standard option and Disney's $6.99 monthly fee."
Apple did not make any surprise product announcements, but emphasized hardware updates and new services instead. While Steve Jobs introduced innovative products during his tenure at Apple, current CEO Tim Cook has focused more on software and service offerings.
"To sustain growth," suggests WSJ, "Apple must squeeze more money out of existing customers by leveraging past hardware success to sell newer products and services. It has over 900 million iPhone users worldwide, but only a fraction own an Apple Watch or pay for the company's streaming-music service."
New offerings include AirPods, Apple Card and its Arcade video-game service. "The emphasis on services and newer products has coincided with several high-profile executive departures, including design chief Jony Ive, who will leave this year to start his own design firm," notes WSJ. "It has also revived questions about the company's ability to offer the type of hardware innovations that turned the iPhone into one of the world's best-selling products."
Related:
Highlights From Apple's Keynote Event (Photos), Apple Newsroom, 9/10/19
iPhone 11 Pro and iPhone 11 Pro Max Hands-On Review, Digital Trends, 9/10/19
Apple TV+ : Everything We Know About Apple's Netflix-Style Streaming Service, Digital Trends, 9/10/19
Apple Wants Gamers to Hit 'Subscribe' With Apple Arcade, The Wall Street Journal, 9/10/19
Deep Fusion Is the iPhone's Take on AI Photography, Engadget, 9/10/19
Apple's Most Basic iPad Gets a Bigger and Better Screen, Stays the Same Price, Digital Trends, 9/10/19
Apple Is Launching a Research App That Will Allow U.S. Consumers to Participate in Health Studies, TechCrunch, 9/10/19
How Safari and iMessage Have Made iPhones Less Secure, Wired, 9/9/19
Without 5G, Apple's New iPhones Risk Falling Behind in China, Bloomberg, 9/11/19
Topics:
4K
,
AirPods
,
Apple
,
Apple Arcade
,
Apple Card
,
Apple TV
,
Apple Watch
,
Batteries
,
Camera
,
Disney Plus
,
Gaming
,
iPad
,
iPhone
,
iPhone 11
,
iPhone 11 Pro
,
iPhone 11 Pro Max
,
iPhone XR
,
Jony Ive
,
Mac
,
Movie
,
Music
,
Netflix
,
Photo
,
Smartphone
,
Steve Jobs
,
Streaming
,
Subscription
,
Television
,
Tim Cook
,
TV Show
,
Video
,
Video Game