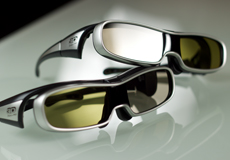 Director Peter Jackson's team has created a fascinating 10-minute video covering all aspects of shooting a 3D feature (cameras, frame rates, concept art!, costumes, make-up), using "The Hobbit" as the case study.
ETCentric staffer Dennis Kuba adds that this is the fourth in Jackson's "Hobbit" production videos, this time with a focus on their 3D production. Dennis points out some of the highlights:
They are using two RED Epics in a 3ality rig which uses a mirror to replicate a human's interocular. Both the interocular and the convergence can be altered as they shoot. They also have a camera rig for a crane and a handheld rig. Jackson doesn't feel that 3D is restricting or changing his shooting style. Interestingly, they are shooting at the same speed as 2D.
They are shooting at 5K resolution and 48 fps. Jackson says the effect is "like looking into the real world."
The RED camera "tends to eat color" so they add even more color." The final film will be graded down to get the right amount of color. For the characters, they found that they needed more red in their makeup otherwise they would appear yellow.
This is the first film where the pencil and charcoal concept art is being done in 3D.