SanDisk unveiled its new 512GB memory card at the International Broadcasting Convention in Amsterdam last week. The $800 Extreme PRO SDXC UHS-I card — which SanDisk touts as "the highest capacity SD card on the market" — is designed for professionals that shoot 4K video, Full HD video and high-speed burst mode photography. The new offering marks an increase in SD card capacity by 1,000 times in just over a decade. It was only 2003 when consumers were scrambling for SanDisk's 512MB cards.
"4K Ultra HD is an example of a technology that is pushing us to develop new storage solutions capable of handling massive file sizes," said Dinesh Bahal, VP of product marketing for SanDisk, in the company's press release. "The 512GB SanDisk Extreme PRO SDXC UHS-I card is a tremendous advancement that enables professionals to reliably store more content on a single card than ever before."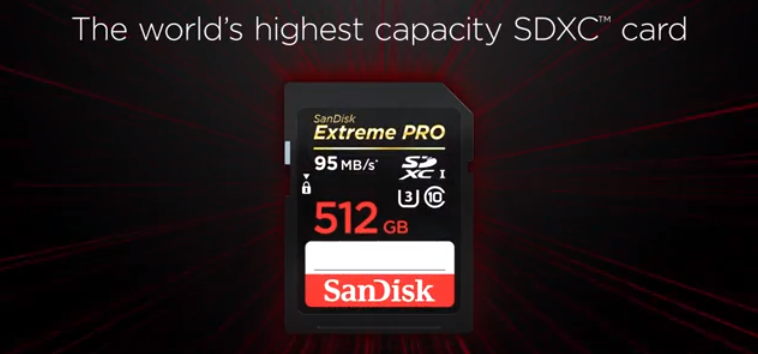 "Besides up to 90MB-per-second in write speeds, UHS Speed Class 3 (a minimum write speed of 30MB/s) recording speeds and up to 95MB/s transfer speeds, the new Extreme PRO memory card is also waterproof, temperature-proof, shockproof, and X-ray proof," reports Digital Trends.
"The 512GB card can hold about four hours of 4K Ultra HD video or about a full day's worth of 1080p video. Put in other terms, it takes about 11 hours to transfer 512GB over a 100BASE-TX Ethernet (100Mb/s) connection. SanDisk's Extreme PRO SD card also comes in 256GB and 128GB versions."
"Our Pocket Cinema Camera customers shoot in every type of circumstance and location, and get amazing wide dynamic range RAW images capturing the brightest highlights and darkest shadows at the same time," said Grant Petty, CEO of Blackmagic Design. "The additional capacity of the SanDisk Extreme PRO UHS-I card will extend the creative freedom for our customers shooting in RAW and open up the ability to use wide dynamic range RAW files with even more productions."
SanDisk is showcasing its new cards at IBC in Hall 11. The exhibition runs through September 16.