New panoramic screening technology from digital cinema projector company Barco will debut this month with screenings of the 20th Century Fox film, "The Maze Runner." To create a panoramic image, Barco's "Escape" theater configuration uses three projectors and three screens — a primary screen front and center, with two angled screens on either side. While the side screens will initially feature footage created using visual effects, Fox is experimenting with camera setups to produce future movies for Escape.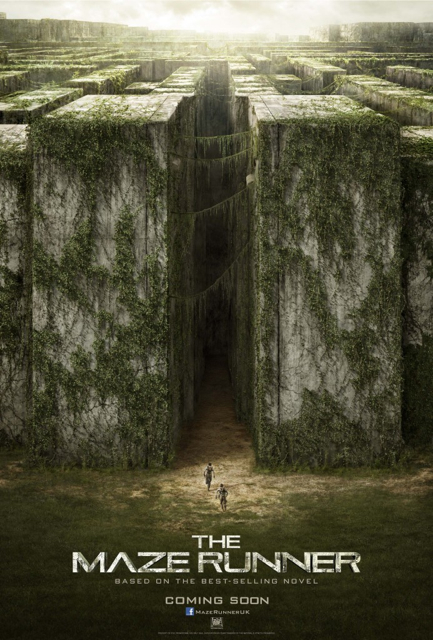 On September 19, "The Maze Runner" will be the first feature film to be exhibited in venues outfitted with Escape. Directed by Wes Ball, the film is about a group of teenagers who become trapped in a massive maze.
"The film was shot in a traditional way, before the decision to use Escape was made," writes Carolyn Giardina for The Hollywood Reporter. "The center screen will display the live-action film, and imagery on the side screens will be extensions of the scenes — i.e., a larger maze — created using visual effects."
For "The Maze Runner," combining the primary and panoramic imagery into a single film involved computing hardware from Devil & Demon and a Crytek gaming engine that was used to render the finished product. Fox is currently experimenting with using single- and multi-camera production for future films.
"That has included shooting vistas lensed with a RED Epic, and Red Bull tests that involved multiple GoPro camera configurations for action shots," reports Giardina.
"We did a test with 'The Devil's Double' (released in 2011), and now we are discussing the possibility of a re-release of that movie in the Escape format," said Ted Schilowitz, Barco's "CinemaVangelist," who also works at Fox.
Digital Trends has posted a short video of Barco's CinemaCon 2014 presentation, which illustrates the Escape configuration.
The first Escape theaters include:
Cinemark 18 & XD at the Promenade at Howard Hughes Center in Los Angeles, California
Cinemark Paradise 24 & XD in Davie, Florida
Cinemark West Plano & XD in Plano, Texas
Cinemark @ Seven Bridges and Imax in Woodridge, Illinois
Cinemark's Redwood Downtown & XD in Redwood City, California
Topics:
20th Century Fox
,
Barco
,
California
,
Cameras
,
Carolyn Giardina
,
Cinema
,
CinemaCon
,
Cinemark
,
Crytek
,
Devil & Demon
,
Digital Cinema
,
Escape
,
Exhibition
,
Florida
,
Format
,
FOX
,
GoPro
,
Illinois
,
Los Angeles
,
Movies
,
Panoramic
,
Production
,
Projectors
,
RED Epic
,
Screens
,
Ted Schilowitz
,
Texas
,
Theater
,
Visual Effects
,
Wes Ball