Lenovo demonstrated its vision for the ultimate in desktop workstation performance, reliability and usability with the introduction of the Lenovo P900, P700 and P500 workstations. The new ThinkStation P Series models unveiled at SIGGRAPH last week in Vancouver are designed to be the most powerful professional-grade desktop workstations available and reflect a focus by Lenovo on customer needs, especially in graphics intensive industries such as visual effects and animation.
The Lenovo workstations featured at SIGGRAPH and in preview demonstrations, including one at the Academy of Motion Picture Arts and Sciences Pickford Center in July, incorporate a powerful combination of the latest Intel Xeon CPU processing power and up to three Nvidia Quadro K6000 graphics cards. The P Series supports a high capacity of DDR4 memory to handle any complex computational task and up to 14 storage devices.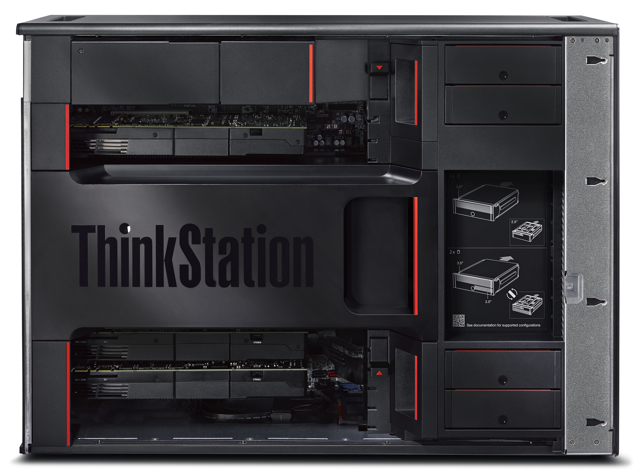 "We engineered the P Series with new levels of innovation based on extensive customer feedback," said Victor Rios, vice president and general manager, Workstation, Lenovo.
Scott Ruppert, senior manager for Lenovo Workstation Marketing, emphasized from SIGGRAPH that the new series also reflects the pace of change in visual effects and animation production. "Every aspect of the workstation is designed for maximum performance and flexibility" and how fast you can move data, he explained.
From a production standpoint, the power resident in each workstation enables a team of computer graphics artists to work together and interactively with supervisors and filmmakers.
Lenovo has also been working with the visual effects company Bit Theory and its Athena artificial intelligence technology. The Athena tech, initially employed on "Transformers: Dark of the Moon" and "The Smurfs," creates substantial workflow efficiencies without sacrificing quality.
"The applications these professionals use to innovate in their industries continue to grow more complex and resource-intensive," Lenovo noted in its press release. "As a result, users need desktop workstations that not only meet the application demands of today but can also be configured to anticipate the challenges of tomorrow."
"We've partnered with the best technology makers in the world and engineered these new workstations to be more intuitive, flexible and powerful than any workstation technology available," said Rob Herman, director, Worldwide Workstation Product and Vertical Marketing, Lenovo. "We're excited to bring this technology to customers and, more importantly, to see how they'll use the ThinkStation P Series workstations to power new innovations."
Topics:
ACM
,
AMPAS
,
Animation
,
Artificial Intelligence
,
Athena
,
Bit Theory
,
Canada
,
Data
,
DDR4 Memory
,
Desktop PC
,
Graphics
,
Intel
,
Lenovo
,
Nvidia
,
P Series
,
Performance
,
Post Production
,
Production
,
Rob Herman
,
Scott Ruppert
,
SIGGRAPH 2014
,
Smurfs
,
ThinkStation
,
Transformers
,
Vancouver
,
Victor Rios
,
Visual Effects
,
Workflow
,
Workstation
,
Xeon