Google is stepping up in-app shopping, adding it to YouTube Shorts. "Doom scrolling is about to become doom shopping," heralds the official blog of Nasdaq, where Google parent Alphabet trades. Now those parsing the YouTube feed of videos 60-seconds or less will have the option to purchase items instantly rather than through redirection to a third-party site. The move comes as Google and others saw digital ad revenue contract this year as a result of economic headwinds and increased competition — notably from TikTok, which is tracking to double its advertising income in 2022.
Eligible YouTube Shorts creators "in the United States who are currently piloting the ability to tag products from their own stores" will be able to add the shopping features, according to TechCrunch, which says the tags will be visible (and shoppable) in India, Brazil, Canada and Australia, with plans to "add more creators and countries in the future."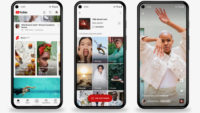 In September, YouTube announced a revised monetization program that will give creators a larger cut of revenue generated by advertising across all YouTube platforms, with a particular emphasis on Shorts, in an effort "to bury TikTok."
"It is very much an endorsement model, versus a more traditional advertising model or a paid-placement model. Our goal is to focus on the best monetization opportunities for creators in the market," said YouTube Shopping general manager Michael Martin, as reported by Search Engine Journal.
"We firmly believe YouTube is the best place for creators to build a business and shopping is a piece of that," a YouTube spokesperson told TechCrunch, which writes "in early 2023, creators will be able to apply to the company's Partner Program if they meet a new Shorts-specific threshold of 1,000 subscribers and 10 million Shorts views over 90 days, after which they will earn 45 percent of ad revenue from their videos."
On its Q3 earnings call, Alphabet reported YouTube Shorts now has more than 1.5 billion monthly users, but still experienced a 1.9 percent decline year-over-year in YouTube ad revenue.
YouTube for some time has "been working to transform its platform into more of a shopping destination with product launches like shoppable ads and the ability to shop directly from live streams hosted by creators," TechCrunch writes. TikTok is also emphasizing in-app shopping, finding it a struggle outside of China, where TikTok parent ByteDance has had shopping success with localized social offering Douyin.
"When it comes to instant shopping, no one outdoes China — buyers there spent $352 billion while social media shopping last year," Nasdaq Market News reports from a Motley Fool post. "Western tech companies are looking to China, where social media shopping is so strong."
Topics:
Advertising
,
Alphabet
,
Australia
,
Brazil
,
ByteDance
,
Canada
,
China
,
Creators
,
Douyin
,
E-Commerce
,
Google
,
In-App Shopping
,
India
,
Influencers
,
Michael Martin
,
Monetization
,
Retail
,
Revenue Sharing
,
Shoppable Ads
,
Short-Form Video
,
Social Media
,
TikTok
,
Video
,
YouTube
,
YouTube Partner Program
,
YouTube Shorts