TikTok is closing in on its downward revised 2022 ad revenue target of $10 billion, according to research firm Insider Intelligence. The ByteDance company had initially projected $12 billion but adjusted the forecast due to a digital advertising downturn that's affected everyone from Alphabet to Meta Platforms. Despite the hedge, TikTok's ad haul this year will nearly double that of 2021, and is expected to surpass the performance of Twitter and Snap. However, it still trails advertising on Meta's Facebook and Instagram, which generated more than $84 billion in the first nine months of 2022 (essentially flat).
"TikTok is growing even as digital advertising is slumping in a global economic slowdown," The New York Times reported Monday, conceding that while "not immune," it seems to be faring better than most. Last month, Google's YouTube "reported its first decline in ad revenue in at least three years" and to counter the trend "recently began placing ads in Shorts, its TikTok challenger," NYT explains.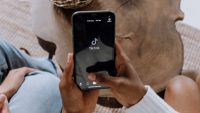 According to Statista, U.S. users spent an average of 45.8 minutes per day watching TikTok, putting it only slightly ahead of YouTube, at 45.6. Among U.S. teens, the gap is larger, with TikTok garnering about 91 minutes of attention per day, versus 56 minutes for YouTube.
The BBC recently reported that TikTok may be addictive, quoting a psychologist who said its personalized algorithm results in the release of "dopamine into the brain," making people "feel good." That's not the only aspect of the platform brands are responding to.
"Unlike other social media platforms, TikTok has ads appear like any other full-screen video on the platform, so they aren't always immediately discernible as ads," NYT writes, adding that the app's matchmaking between brands and influencers has blurred the lines even further.
While TikTok influencers are recognized as effective sales generators, the platform has struggled to create an e-commerce presence for itself. In 2021, ByteDance generated $115 million from in-app purchases, but 86 percent of it was from TikTok's Chinese counterpart Douyin, with only 8 percent from TikTok in the U.S., according to a study.
The company recently restructured, reassigning Sandie Hawkins, general manager of TikTok North America to head of TikTok Shop, a new initiative, according to Financial Times, which quotes Blake Chandlee, the Austin, Texas-based executive in charge of global business solutions, stressing e-commerce as "a critical part of our client needs" and a way for TikTok to leverage "many of the native behaviors we already see on the platform."
"The pressure on the digital advertising sector has driven social networking companies to diversify revenue streams. Meta, Snapchat and TikTok are experimenting with new formats including gaming and live shopping in an effort to be less reliant on advertising," FT writes. TikTok Shop launched in the UK last year.
In addition to North America, the company plans to expand it to other countries over the next few months. FT reports that ByteDance's Douyin e-commerce revenue has "more than tripled year on year" and that Chinese live-stream shopping is expected to hit $423 billion in 2022, according to McKinsey.
Topics:
Advertising
,
Alphabet
,
Blake Chandlee
,
ByteDance
,
Digital Advertising
,
Douyin
,
E-Commerce
,
Facebook
,
Google
,
In-App Shopping
,
Insider Intelligence
,
Instagram
,
Live Shopping
,
McKinsey
,
Meta Platforms
,
Sandie Hawkins
,
Short-Form Video
,
Snap Inc.
,
Social Media
,
Statista
,
TikTok
,
TikTok Shop
,
Twitter
,
United Kingdom
,
YouTube
,
YouTube Shorts