Following its recent acquisition of Tumblr, Yahoo is in advanced talks to purchase social video app Qwiki for $50 million, according to sources familiar with the matter. The New York startup's iPhone app allows users to create short movies from photos, music and video clips. Yahoo paid more than $1.1 billion for Tumblr several weeks ago and is reportedly close to purchasing San Francisco-based address book app creator Xobni for $30-$40 million.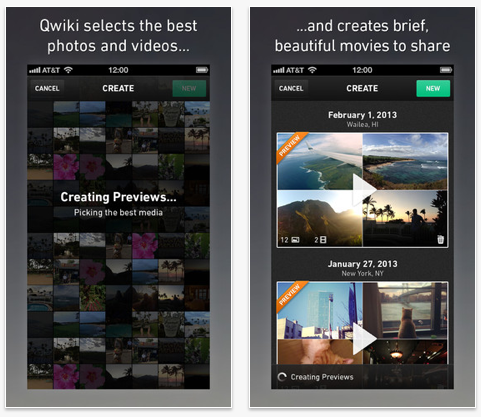 Qwiki "began as a multimedia search offering, with another iPad app that creates video summaries of search terms, as well as other video-creation tools for storytelling," reports AllThingsD. "And last year it hooked up with Yahoo news partner ABC News on a publishing platform to quickly create interactive stories."
"While all that pivoting seems unusual, the company recently settled on its mobile-only focus, which is just what Yahoo CEO Marissa Mayer has been aiming Yahoo's efforts at, looking to create a series of daily apps and services to reinvigorate its offerings," notes the article.
Qwiki's iPhone app offers what its creators call "one-tap storytelling" by enabling users to create slideshow movies from the images, video and music stored on their phones. The videos can then be shared via Facebook, Twitter and email.
"We don't want to be the world's 10th video-sharing app. There are plenty of those," said Qwiki CEO and co-founder Doug Imbruce in a February interview. "We want to be the first real storytelling app."
Yahoo "has been on something of a spending spree recently, while at the same time investing in the revamp and launch of its own mobile offerings," reports Digital Trends. "Besides the high-profile Tumblr takeover last month, Yahoo also picked up news app Summly for $30 million as well as social recommendation site Jybe. There's also been speculation surrounding a possible Hulu acquisition."
Related News:
Tumblr: Yahoo's Last Chance at Relevance, Forbes, 6/18/13
Yahoo Offer to Buy Contact Startup Xobni is at a Price of $30M to $40M, AllThingsD, 6/17/13
Yahoo Buys Fifth Startup Jybe, Yahoo! Finance, 5/21/13
Yahoo Buys Summly News App from Brit Teen for an Estimated $30M, Digital Trends, 3/26/13