In a post yesterday about the death of Windows Media Center, tech journalist and blogger Paul Thurrott cited unnamed sources regarding an update to Xbox One's live TV functionality that would add television recording. This would allow Xbox One to replace TiVo and other DVRs in many households. Microsoft recently unveiled a tuner that enables the console to accept over-the-air broadcast TV signals. It also offers the options to pause live TV and stream live content to mobile devices via SmartGlass.
"Microsoft's Gabe Aul confirmed this week that Media Center will not move forward to Windows 10," according to Thurrott.
Since most consumers use Media Center for DVD movie playback, Aul promised the company would address the issue. "We'll provide another option for DVD playback in the future," he explained.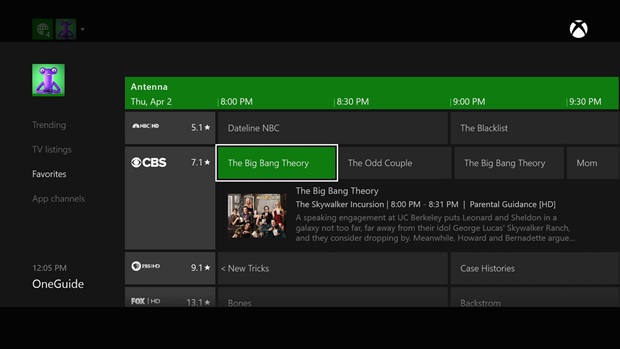 "Of course, many Media Center fans actually use the product to record and watch TV shows via Media Center PCs in the living room," adds Thurrott. "Microsoft's solution for this need will apparently be the Xbox One, though the console currently only provides live TV watching, but not recording. My sources tell me that will change, and most probably this year, to include TV recording."
Ars Technica suggests that DVR functionality would "represent a big step up from the current uses for Xbox One's HDMI passthrough, which include Kinect-controlled channel switching, a built-in program guide, and the ability to snap live TV alongside a game. On the other hand, a built-in DVR that lets users easily skip commercials on recorded programs might not sit well with many content providers that partner with Microsoft to sell content through the Xbox video store and other platforms."
Topics:
Broadcast
,
Commercials
,
Console
,
DVD
,
DVR
,
Gabe Aul
,
Gaming
,
HDMI
,
Kinect
,
Live TV
,
Microsoft
,
Mobile
,
Movies
,
OTA
,
Paul Thurrott
,
SmartGlass
,
Smartphones
,
Streaming
,
Tablets
,
Television
,
TiVo
,
Tuner
,
TV Shows
,
USB
,
Windows
,
Windows Media Center
,
Xbox One