At WWDC this week, Apple officially announced its plan to move from Intel chips to ARM-based "Apple Silicon" chips. With its own chips, Apple will no longer have to rely on Intel's update cycles. It also means that Apple will be able to bring its customized neural engines to Macs for tasks that use machine learning. Apple stated that developers will be able to create apps that run on ARM-based Macs in Xcode's new version, which will also continue to support Intel x86 Macs. Additionally, the company announced iOS 14 (with home screen widgets), iPadOS 14 (with Scribble handwriting-to-text conversion), macOS and Safari upgrades, spatial audio for AirPods Pro, Apple TV updates, and more. 
Wired reports that iOS 14, which "will make your iPhone more customizable," will add a new home screen and that its new App Library view will include "all downloaded apps automatically organized in folders, starting with Siri suggestions … and recently added apps." Instead of Siri taking over the whole screen when it's activated, it will appear "as a small overlay near the bottom of the screen."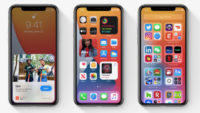 Widgets will have an updated look and gain "the ability to be dragged from the widget panel to your home screen." A new translate feature reportedly will "give anyone the ability to hold real-time conversations with others who speak different languages."
Apple also reinvented the car fob, with an NFC chip to unlock the car, and then tap of a button to start it. Car keys can also be shared in iMessage and turned off in iCloud. BMWs with that feature will be available next month. The latest version of iPadOS includes "a lot of the same enhancements coming to iOS 14 for iPhone" but utilizes the iPad's larger real estate.
For example, a new sidebar will appear in the Photos, Notes, Files and Music apps, "to offer easier navigation and better organization of app files … [and] a Siri shortcut will now appear on the bottom right of certain app screens." Apple is also promoting Scribble, a new Apple Pencil feature that turns handwriting into text.
MacOS's next version, dubbed Big Sur, has a new look, with everything looking "a little cleaner, more interactive, and spacious." Apple is porting the Messages and Maps apps to macOS as part of its ongoing Catalyst project "to help developers create macOS versions of their iOS apps, reducing the amount of resources needed to create and maintain these apps." Big Sur is coming this fall.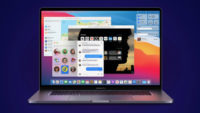 Apple stated that Safari is now "more than 50 percent faster than Google Chrome" and offers "better privacy features." Safari also "regularly checks your passwords to see if they have been compromised." Extensions are coming to the browser via download through the Mac App Store, and developers will be able to port their existing extensions from other browsers.
Via software update, AirPods will offer the ability for the user to change listening between devices seamlessly, "without ever having to re-pair [her] pods." Spatial audio will also be added, and the headphones "will be able to simulate 5.1, 7.1, and even Dolby Atmos object-based surround sound."
Shipping later this year, watchOS 7 will have sleep features, including "a wind-down routine to start locking down your phone before bed, sleep monitoring of 'micromovements' as you breathe, a variety of wake-up alarms, and a Sleep Mode which dims the screen at night."
Related:
Apple TV Will Finally Stream YouTube in 4K, Engadget, 6/23/20
Apple's Widgets Aren't Late. Android's Widgets Arrived Too Early, Digital Trends, 6/23/20
Apple Is the Newest Chip Giant in Town, The Wall Street Journal, 6/23/20
Apple Is Releasing a Mac Mini With an Apple Processor for Developers Starting This Week, TechCrunch, 6/22/20
Apple to Let Developers Challenge App Rules, Won't Delay Updates, Bloomberg, 6/23/20
Apple Will Force Apps to Ask for OK Before Tracking Users, Bloomberg, 6/22/20
Apple Is Bringing Spatial Audio to AirPods Pro, TechCrunch, 6/22/20
iOS 14 Will Respond to Taps on the Back of Your iPhone, Engadget, 6/23/20
Apple Now Accepts Mac Trade-Ins in Its U.S. Stores, The Verge, 6/19/20
Topics:
4K
,
AirPods Pro
,
App
,
Apple
,
Apple Pencil
,
Apple Silicon
,
Apple TV
,
ARM
,
Big Sur
,
BMW
,
Catalyst
,
Chip
,
Developer
,
Dolby Atmos
,
Google Chrome
,
iCloud
,
iMessage
,
Intel
,
iOS 14
,
iPadOS 14
,
iPhone
,
Mac
,
Machine Learning
,
macOS
,
Maps
,
Messages
,
NFC Chips
,
Safari
,
Scribble
,
Siri
,
Spatial Audio
,
Widget
,
WWDC
,
Xcode
,
YouTube