Apple kicked off its Worldwide Developers Conference in San Jose, California yesterday and, as expected, the major announcements focused on upgrades and improvements rather than new hardware reveals. With the company's iOS 12, available this fall, Apple is "doubling down on performance," according to SVP Craig Federighi. Following user complaints that a previous update slowed older iPhones, the new iOS will make devices faster, with improved integration across devices. The company emphasized macOS Mojave, its digital assistant Siri, and a push into augmented reality, as well as a new version of its suite of machine learning apps for iOS devices and tvOS 12's support for Dolby Atmos.
"The most notable new feature in iOS 12 is called Screen Time, a tool to help iPhone customers manage the time they spend on their devices," reports The New York Times. "The feature shows you a dashboard of apps you regularly use and the amount of time you tend to spend with them. You can also add limits to how much you use certain apps."
Parents should find the feature useful in placing limits on the time their children spend with iPhones and iPads.
Federighi emphasized improvements to AR software by showcasing ARKit 2 capabilities, "including a mode called Persistence that lets users drop a virtual object in an environment and then return to it later in that specific place," explains Bloomberg. "Another feature, Shared Experiences, allows multiple users to play a single augmented-reality game together. In a demonstration, the company showed a Lego game and displayed how two iPhone users could play at the same time from different locations."
Apple is working on its own AR headset that could be ready for launch as early as 2020.
Version 12 of Apple's tvOS will provide support for Dolby Atmos multichannel surround sound, good news for owners of Apple TV set-top boxes. "This fall, a portion of iTunes 4K HDR movies and shows will gain support for Dolby Atmos, and existing content owners will receive the enhanced versions for free," notes VentureBeat.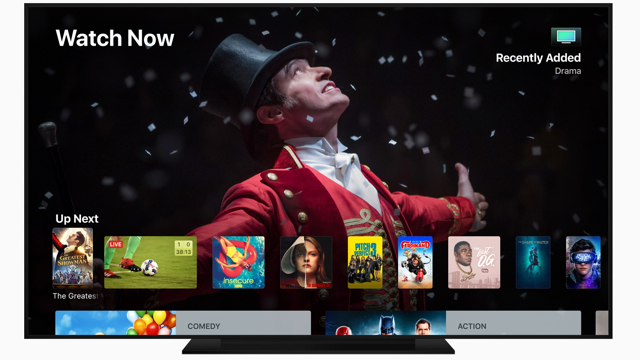 The Apple TV app is getting improvements, including more channels and "an enhanced single sign-on experience. Apple calls it 'zero sign-on,' and it will automatically detect a TV provider's broadband network and sign you into apps."
Apple also announced "Core ML 2, a new version of its suite of machine learning apps for iOS devices," reports VentureBeat. The company claims that "Core ML 2 is 30 percent faster," due "to a technique called batch prediction. Furthermore, Apple said the toolkit will let developers shrink the size of trained machine learning models by up to 75 percent through quantization. Apple also announced Create ML, a new GPU-accelerated tool for native AI model training on Macs."
Apple CEO Tim Cook and his team made a great number of announcements from the stage in San Jose, too many to list here. However, the following is worth noting, taken from a list of the 21 biggest announcements at WWDC as reported by Business Insider:
iOS 12 will work on any device that supports iOS 11 — and Apple made sure iOS 12 works great on older devices in particular.
Apple teamed up with Pixar to make a new compact file format called USDZ, which is optimized for sharing GIFs and videos that feature 3D graphics and animations. This will be ideal for sharing your augmented-reality experiences with the world.
Apple introduced a special new app for iOS 12 called Measure, which, as the name suggests, lets you measure distance and length using only your iPhone.
Apple just made Siri much more useful, thanks to the new feature Siri Shortcuts — borne from Apple's acquisition of the excellent Workflow app.
Apple is also updating Notifications. In iOS 12, Apple will finally group notifications (!!) by app, topic, or thread.
Apple's Messages app will be much more like Snapchat in iOS 12. The camera function in the Messages app will be able to add filters, text, and stickers — you can even apply Animoji and Memoji in your videos.
Apple dialed FaceTime up to 11 with Group FaceTime, which supports up to 32 simultaneous participants. FaceTime is now integrated with Messages so you can go right from a group chat to a group FaceTime.
The Mac is finally getting a true dark mode with the newest macOS release coming later this year, Mojave. The optional dark mode affects the entire system, from Apple's own apps like Photos and iTunes to all of your windows and filters.
Related:
App Store Hits 20M Registered Developers and $100B in Revenues, 500M Visitors per Week, TechCrunch, 6/4/18
Apple Will Bring iOS Apps to the Mac, Engadget, 6/4/18
Apple Looks to Expand Advertising Business With New Network for Apps, The Wall Street Journal, 6/1/18
Apple, Pixar and Adobe Back a Standardized AR File Format, Engadget, 6/4/18
Apple Updates App Store Review Guidelines With Free Trial Details, Remote Mirroring Changes, 9to5 Mac, 6/4/18
MacOS Mojave Hands-On Review, Digital Trends, 6/4/18
iOS 12 Is More Evidence You Should Buy an iPhone, Not an Android Phone, Digital Trends, 6/4/18
Apple Introduces Siri Shortcuts for Easy Custom Voice Commands, VentureBeat, 6/4/18
Topics:
Apple
,
Apple TV
,
Apps
,
ARKit 2
,
Augmented Reality
,
California
,
Core ML 2
,
Craig Federighi
,
Create ML
,
Dolby Atmos
,
FaceTime
,
HDR
,
iOS
,
iOS 12
,
iPad
,
iPhone
,
iTunes
,
Lego
,
Mac
,
Machine Learning
,
macOS
,
Messages
,
Mobile
,
Mojave
,
Notifications
,
Persistence
,
Pixar
,
San Jose
,
Screen Time
,
Shared Experiences
,
Siri
,
Tim Cook
,
tvOS 12
,
USDZ
,
Video
,
WWDC
,
WWDC 2018