Amazon's AWS cloud computing unit has announced its new WorkLink service that promises to provide workers with simple and secure mobile access to all of their companies' intranet sites and web apps. Since most companies typically use virtual private networks or mobile device management software for such remote access, AWS wants to replace the often expensive and complex use of these approaches with simple one-click access that employees should find similar to basic Internet browsing on their various devices.
Currently representing about 10 percent of Amazon's revenue, public cloud market leader AWS needs to continue innovating services for businesses in order to fend off rivals including Google Cloud and Microsoft's Azure.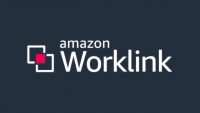 "It's often said that companies' biggest security risk is their employees' negligence and complacency, be that through a misplaced mobile phone or poor security hygiene," reports VentureBeat. "And this is what WorkLink promises in a nutshell: to make it easy for workers to access company content without putting that content at risk."
"At the core of Amazon WorkLink is a secure web browser hosted in the cloud that transforms web content into a fully interactive simple vector graphics (SVG) graphical representation," notes the press release.
"Once rendered, Amazon WorkLink sends that graphical representation to the web browser on an end user's device. Unlike virtual desktop applications, this means Amazon WorkLink does not stream content, but instead embeds a fully interactive image in an end user's existing browser, enabling common gestures and features like scrolling, typing, and pinching locally on the device despite the web page running in the cloud."
"With Amazon WorkLink, we're enabling greater workplace productivity for those outside the corporate firewall in a way that IT administrators and security teams are happy with and employees are willing to use," explained AWS VP of productivity applications Peter Hill.
According to VB, WorkLink will run on iOS 12 and above, "and it will only work with Safari," but "Android support is coming in the next few weeks, at which point support for Chrome will be added to the mix." AWS plans to charge $5 monthly for each active user.
Topics:
Amazon
,
Amazon Web Services
,
Android
,
Apps
,
AWS
,
Azure
,
Browsers
,
Chrome
,
Cloud
,
Firewalls
,
Google Cloud
,
Internet
,
Intranet
,
iOS
,
IT
,
MDM
,
Microsoft
,
Mobile
,
Networks
,
Peter Hill
,
Public Cloud
,
Remote Access
,
Safari
,
Search
,
Security
,
Smartphones
,
SVG
,
VPN
,
WorkLink