Two-year startup Scener, which has been offering co-viewing watch parties, just brought in $2.1 million in new funding. Its usage spiked during the COVID-19 pandemic, even as Disney+, Hulu, Amazon Prime Video and other services also debuted watch-together features. Scener, which unveiled with a web-browser overlay for Netflix, now supports 10 streaming platforms, including, in addition to Netflix, HBO Max, Disney+, Hulu, Amazon Prime Video, Funimation, Vimeo, YouTube, Alamo On Demand and Disney's Hotstar.
Variety reports that, "Scener expects to launch support for connected TVs and mobile apps later in 2020 as well as scale up its 'virtual theater' platform to support as many as 1 million concurrent viewers" and begin to earn revenue from co-viewing watch party special events.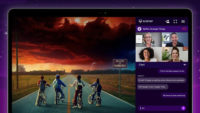 Scener chief operating officer Joe Braidwood, who founded the company with Daniel Strickland, said the company has "seen its engagement boom 100-fold since the coronavirus outbreak hit the U.S. in March, with users currently watching nearly 14 million minutes per week together." He added that the company "is approaching 500,000 weekly actives."
The company is "pre-revenue," which means it's now free to users and "focused on scaling up its platform, growing the user base and introducing new features."
Being adopted by so many name-brand streaming video services has, said Braidwood, boosted Scener's profile. "Our vision is to be a watch-party platform that integrates with whatever you watch, wherever you watch it," he said.
The new round of funding was led by "SeaChange Fund with participation from RealNetworks chief executive Rob Glaser's Glaser Investments, [Jason] Calacanis' Launch Accelerator, RiffTrax … and angel investors including RiffTrax chief executive David Martin and tech executive Sriram Krishnan." SeaChange managing partner Susan Preston stated that, "we are very bullish on what the future holds for Scener." Scener was incubated by RealNetworks and Launch Accelerator.
VentureBeat reports that, according to Braidwood, Scener's biggest breakthrough was synchronizing between watch party members. "That's the backbone of what makes our technology work," he said, adding that "the majority of users are engaging with each other on video chat."
In October, Scener is introducing a Halloween-themed watch party series, Stream and Scream, featuring horror movies, watch party hosts and shows, including the premiere of "The Haunting of Bly Manor" with a surprise guest from the cast. Scener is also partnering with RiffTrax to "show its comedic live Riff commentary synchronized with movies on the major streaming services."
Braidwood added that the company just debuted "a big update to the product, which brings social profiles and scheduled events to the core of the user experience," in addition to support for the 10 platforms. Twitch founder Justin Kan became an advisor to the company.
Related:
Disney Plus Is Rolling Out GroupWatch Feature to All U.S. Subscribers, The Verge, 9/29/20
Topics:
Alamo On Demand
,
Amazon Prime Video
,
Coronavirus
,
COVID-19
,
Daniel Strickland
,
David Martin
,
Disney Plus
,
Funimation
,
HBO Max
,
Hotstar
,
Hulu
,
Jason Calacanis
,
Joe Braidwood
,
Justin Kan
,
Launch Accelerator
,
Movie
,
Netflix
,
RealNetworks
,
RiffTrax
,
Rob Glaser
,
Scener
,
SeaChange
,
Sriram Krishnan
,
Susan Preston
,
Twitch
,
Video
,
Vimeo
,
YouTube